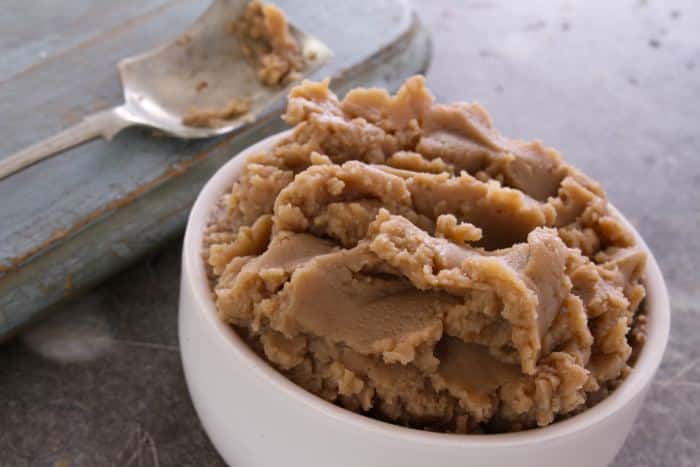 35 m
Calories: 220
Easy
4 people
Prepare a simple chestnut puree to accompany meats. Chestnuts provide calcium, potassium, fiber, and iron. Their mild flavor makes them perfect for sauces and purees. If you love original puree recipes,  on this website we propose our chestnut puree.
Calories and nutrients in chestnuts
Chestnuts are the fruits of the chestnut tree. There are no fewer than 9 species of chestnut trees, native to temperate regions. China is the world's leading producer, followed by Turkey and Italy. The chestnut belongs to the same family as beech and oak. The European sweet chestnut, or Castanea sativa, is also known as the 'Spanish chestnut' and is the only species found on the European continent. There are other species in America and Asia, but they are not as sweet as the European one.
It's no surprise they taste sweet, as they contain 12 grams of sugar per 100 grams. They provide 190 calories per serving and 2.65 g of protein. They have almost 7 grams of fiber per serving, 36 grams of calcium, and 17 mg of vitamin C. Thanks to chestnuts, many people have survived, as they provide carbohydrates in areas where growing fruits or cereals was challenging.
Another type of chestnut (not of the Castanea genus) called horse chestnut looks similar but is not suitable for human consumption as it is toxic.
Ingredients for Chestnut Puree for 4 people
Unpeeled chestnuts – 600 g
Butter – 100 g
Milk – 350 ml
White wine – 100 ml
Salt – to taste
White pepper – to taste
How to make the recipe Chestnut Puree
First, place the chestnuts in a container, wash, and drain.
Make a cross-shaped cut in each chestnut.
Prepare a pot with about two liters of water, add the chestnuts and bring to a boil. Simmer for 20 minutes.
Once cooking is complete, turn off the heat. Pour cold water into a glass and immerse each chestnut in the glass before peeling so you won't burn yourself. When all are peeled, cut them into four pieces and set aside.
In another container, add the milk and butter, heat until the butter melts. Also, add the white wine and some pepper.
Add the peeled and chopped chestnuts. Cook for 6 minutes.
After this time, you can puree the chestnuts in the same container using a hand blender. Depending on the desired texture, if you want it a little less dense, add more milk.
Notes and Tips
European chestnuts, due to their sweeter taste, are ingredients in both sweet and savory recipes. If you want to prepare a sweet puree, follow the same recipe but add two tablespoons of sugar. Did you like the recipe?
Latest posts by Cocina Casera English
(see all)
What to eat today? Search by ingredient or recipes