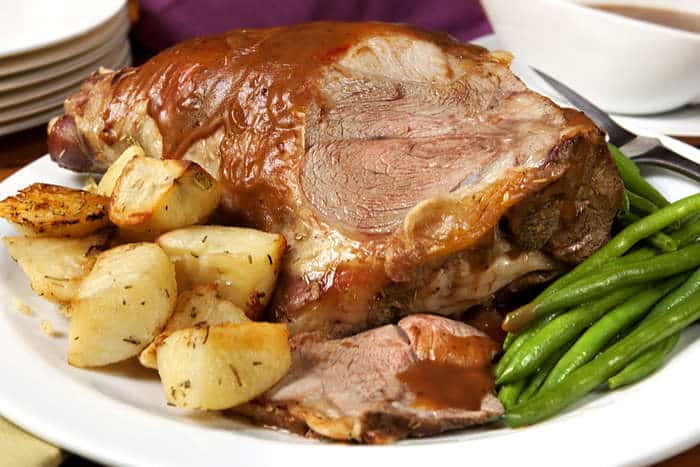 2 h
Calories: 185
Medium
2 people
Spanish cuisine is full of classics. The potato omelette, paella, gazpacho... and a multitude of meat recipes. On this occasion, we will focus on a recipe with lamb meat. A very nutritious meat, as it contains proteins with a high biological value. What does this mean? It means that this meat contains almost all the essential amino acids our body needs.
This means that lamb meat helps us create new cells. That is, it promotes the production of red blood cells, antibodies, or collagen, and aids in wound healing and bone repair.
On this website, we've seen various lamb recipes, such as the shoulder cut. This time, we're going to roast a leg of lamb. Will you join us to enjoy all the benefits of this meat?
Ingredients for Roast Lamb Leg for 4 people
For the meat:
Lamb leg - 1 piece about 2 kilos
Garlic cloves - 4 units
Olive oil - 150 milliliters
White wine - 300 milliliters
Pepper
Rosemary
Thyme
Salt
For the garnish:
Potatoes - 4 large units
Green asparagus - 250 grams
How to make the recipe Roast Lamb Leg
Start by preparing the leg for roasting. Make some cuts, creating three sections, but without separating them. The butcher can do this step when you buy the meat.
Wash the meat well and let it drain. Preheat the oven to 428ºF, with heat from the top and bottom. While heating, season the meat and place it on the baking tray.
Next, peel the garlic and place it in a bowl. Add white wine, oil, and thyme and rosemary to taste. Mix until smooth. Coat the lamb leg with this mixture, making sure it's well covered. Set aside the remaining mixture.
Pour a glass of water into the tray, so the lamb doesn't dry out. Once the oven is preheated, lower the temperature to 338ºF and place the lamb inside. Bake for 60 minutes.
After this time, turn the meat over and baste it with the remaining mixture. Also, place the garnish potatoes, which have been previously washed, in the tray. Bake for another 40 or 45 minutes.
Check if both the meat and potatoes are done. If necessary, leave them in a bit longer. Once ready, remove the tray from the oven. Quickly sauté the asparagus in a pan with some olive oil for a couple of minutes. Serve the meat with the potatoes, which will be cut, and with the asparagus. Sprinkle some coarse salt over the garnish, and voila!
Notes and Tips
You can change the meat garnish as many times as you want. Try adding onions or roasted tomatoes; you'll love it!
If you want to give the meat a golden touch, turn on the oven's grill for a few minutes at the end.
Latest posts by Cocina Casera English
(see all)
What to eat today? Search by ingredient or recipes