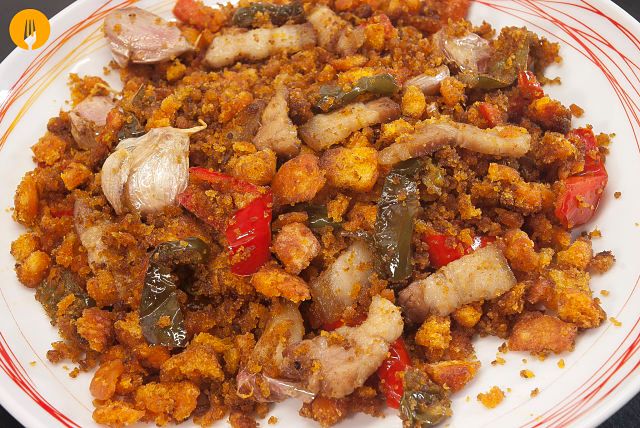 25 m
Calories: 280
Medium
2 people
Spanish breadcrumbs are a widely enjoyed dish throughout Spain, particularly in the regions named after it, such as Cáceres and Badajoz. It's an ideal dish for the colder months, offering a significant caloric boost that helps our bodies withstand winter's harshness.
This dish exemplifies the value our grandmothers placed on what they called 'resourceful cooking'. While nowadays, it's common for households to waste food almost daily, there was a time when our mothers and grandmothers maximized every ingredient they had. With this recipe, you can make use of that stale bread forgotten in some pantry corner.
We used peppers, garlic, and pancetta as our main ingredients, but we encourage you to customize these migas to your liking, adding any favorite ingredient; ham, chorizo, blood sausage, green garlic, etc. This dish is highly versatile and has many variations.
Ingredients for Spanish Breadcrumbs for 2 people
Bread - 500 grams
Red pepper - 1
Green pepper - 1
Pancetta - 250 grams
Head of garlic - 1
Salt - to taste
Olive oil - 100 milliliters
Bittersweet paprika - 1 large tablespoon
Hot water - 50 milliliters
How to make the recipe Spanish Breadcrumbs
An hour before starting the recipe, cut the bread into small cubes. Place them in a large bowl and lightly moisten with water. Don't soak them, just lightly dampen. Then, cover the bowl with plastic wrap.
An hour later, deseed the red and green peppers and slice them.
Heat olive oil in a large pan, add whole garlic cloves and both peppers. Lightly season and cook over low heat until the peppers soften.
Once soft, remove the peppers and garlic from the pan.
Add diced pancetta and cook until lightly golden. Remove and set aside.
Remove most of the oil, saving some to add to the bread as needed.
Add paprika to the pan and cook for a few seconds on low heat, ensuring it doesn't burn.
Add the bread cubes to the pan and cook on medium heat, constantly stirring to form the migas. Add oil or water if the migas become too dry.
Once the bread has broken down into small crumbs, add the peppers, garlic, and pancetta. Stir well. Adjust seasoning if necessary and serve immediately.
Notes and Tips
For this recipe, it's best to use day-old bread or even older. This helps form the migas more easily. If you use homemade bread, the results will be even better.
You can also moisten the bread the night before.
Latest posts by Cocina Casera English
(see all)
What to eat today? Search by ingredient or recipes