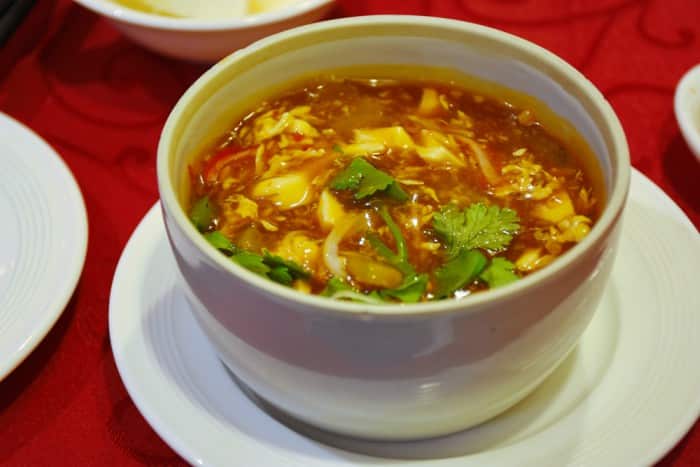 35 m
Calories: 120
Easy
4 people
Hot and Sour Soup (Suan La Tang) A specialty revered in various Asian countries, this soup stands out as a full meal due to its rich ingredients like chicken, eggs, soy noodles, and mushrooms. If exotic soup recipes tickle your fancy, this one will surely captivate your taste buds. Here on this website, we guide you through every step.
The Hot and Sour Soup
Its versatility is one of its prime features. With multiple versions found in Chinese, Indian, and Japanese cuisines, each region adds its own unique ingredients, ranging from pork pieces to an array of vegetables. The spiciness often derives from peppers (chilies or guindilla can be used), while the sourness comes from vinegar. Contrary to first impressions, this soup is a delight (especially if you're a fan of spicy) due to the rich interplay of textures and flavors.
Ingredients for Hot and Sour Soup for 4 people
Chicken broth - 1 liter
Firm tofu – 60g
Dried shiitake mushrooms - 60g
White vinegar – 60ml
Soy sauce – 2 tablespoons
Grated ginger – 1 tablespoon
Guindilla (chili pepper) – 2
Garlic cloves – 2
Egg – 1
Cornstarch - 2 teaspoons
Soybean sprouts – 3 tablespoons
Bamboo shoots – 40g
Chicken breast – 100g
Cilantro – 1 teaspoon
Sugar - 2 teaspoons
Sunflower oil – 1 teaspoon
How to make the recipe Hot and Sour Soup
Start by soaking the mushrooms in a container filled with water.
In a separate bowl, mix the cornstarch, sugar, soy sauce, and vinegar.
In a pot or wok, sauté the chicken breast with a teaspoon of oil for just a couple of minutes.
Add the garlic, guindilla, grated ginger, sugar, and tofu. Continue sautéing for two more minutes
Pour in the chicken broth, followed by the soybean sprouts, drained mushrooms, and bamboo. Let it simmer for 10 minutes on low heat.
Midway through the cooking (around the 5-minute mark), add the sliced chicken and the initially prepared cornstarch mixture. Beat the egg and gradually introduce it to the soup, drizzling it in to form delicate strands.
Notes and Tips
Should you opt to incorporate soy noodles, ensure to blanch them in boiling water for a few seconds. Then, add them to the soup during the fifth step along with the cornstarch mixture. Did you find the recipe appealing?
Latest posts by Cocina Casera English
(see all)
What to eat today? Search by ingredient or recipes