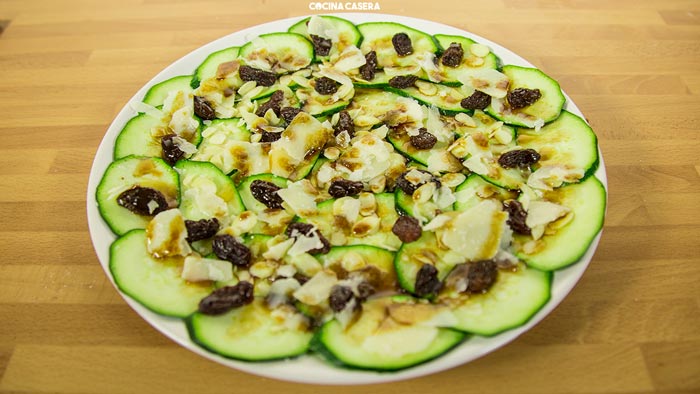 15 m
Calories: 136
Easy
2 people
If you want to eat something delicious and healthy, don't hesitate to prepare this zucchini carpaccio. Not only is it a quick and low-calorie dish, but it also has a very appealing presentation. If you love vegetables, we're sure you'll greatly enjoy this gourmet recipe. But if you're in the mood for the traditional Italian beef carpaccio, take a look and get started... How do you prefer your carpaccio?
Ingredients for Zucchini Carpaccio for 2 people
Zucchini - 1 unit
Honey - 1 tablespoon
Modena or balsamic vinegar - 1 teaspoon
Chopped almonds
Raisins
Oil - 1 tablespoon
Parmesan shavings
Salt - 1 pinch
How to make the recipe Zucchini Carpaccio
The first thing we will do is thinly slice our zucchini. If we have a tool like a mandolin, that's perfect. If not, you can always do it with a sharp knife and a lot of care.
Prepare the balsamic cream: mix the oil, Modena vinegar, and honey. Stir well.
Arrange the zucchini slices on a large plate in a spiral shape.
Sprinkle raisins, almonds, and parmesan shavings over the top.
With a spoon, drizzle the balsamic cream we've prepared, and your zucchini carpaccio is ready to eat!
Notes and Tips
One little tip: since you can prepare this dish in just a few minutes, it's best to make it right before eating to ensure the zucchini doesn't spoil...
Latest posts by Cocina Casera English
(see all)
What to eat today? Search by ingredient or recipes