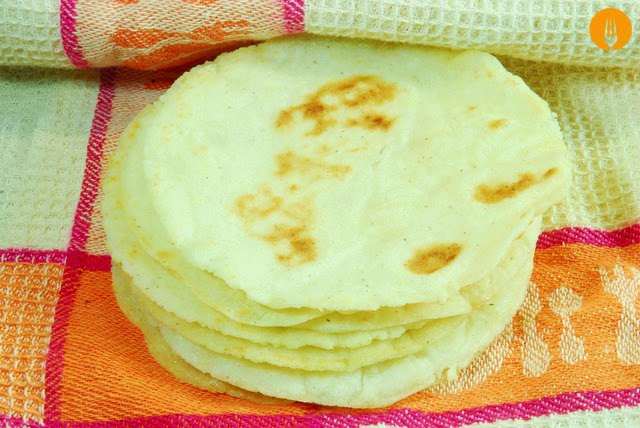 35 m
Calories: 218
Medium
2 people
Corn tortillas are a prominent feature in Mexican cuisine, often serving as the foundation for tacos, quesadillas, enchiladas, and more. These flat, round cakes made from nixtamalized corn have also found favor in many other South American nations.
Typically, after cooking in a pan, they are served plain or stuffed with various fillings. The traditional cooking utensil for these tortillas is a "comal" – a thick metal griddle. However, if a comal isn't available, a thick-bottomed skillet will suffice.
For authentic corn tortillas, it's crucial to use instant precooked cornmeal.
On this website, you can also learn to make another world-renowned type of tortilla, namely the wheat tortillas used for fajitas and burritos.
Ingredients for Corn Tortillas for 2 people
Instant precooked cornmeal – 150 grams
Warm water – 220 grams
Salt – 4 grams
Note about the flour at the end
How to make the recipe Corn Tortillas
Use water that's warm (around 100.4-104º F) for easy kneading. Start by warming the water slightly, either in a saucepan or microwave.
Place the cornmeal in a bowl. Gradually pour in the warm water, kneading as you go, aiming for a firm yet soft dough
Heat a lightly buttered comal or skillet.
Take a dough ball roughly the size of a golf ball, place it between two plastic sheets, and flatten it to achieve a 1-millimeter thick disc. A zip-lock bag can serve as a substitute for the plastic sheets.
Once the skillet is hot, add the dough disc. Cook over medium heat, flipping and pressing down after a few minutes to help it puff up. Depending on the skillet's size, you can cook multiple tortillas simultaneously.
Continue forming and cooking the tortillas in batches. Serve immediately with your choice of accompaniment.
Notes and Tips
It's essential to use the specified type of cornmeal to achieve soft, flexible tortillas. If the cornmeal is precooked but not instant, the tortillas will have a harder texture.
Freshly made corn tortillas are unbeatable in texture; as time passes, they lose their softness.
When looking for instant precooked cornmeal, opt for packaging that indicates its suitability for making arepas.
Latest posts by Cocina Casera English
(see all)
What to eat today? Search by ingredient or recipes