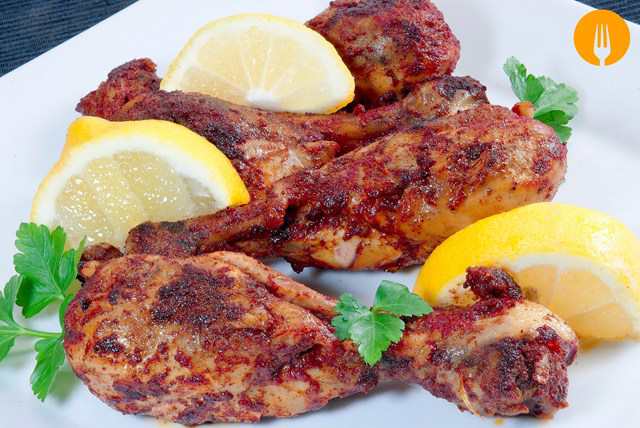 1 hours y 10 minutes
Calories: 150
Medium
2 people
Twice a year, I meet up with friends from another city to dine at a restaurant specializing in Pakistani cuisine. Among the dishes we always order is the Tandoori chicken, a spiced oven-baked chicken served with grilled vegetables. What fascinates me about this dish is its robust flavor, which isn't surprising given the plethora of spices used in its preparation. This mix varies from region to region, and I'd even dare to say, from one household to another. While you can find tandoori masala in stores, I believe each person should make their spice blend at home.
Another characteristic of Tandoori chicken is its color, which can range from a deep golden brown to a shocking red. In some recipes, to achieve a vibrant hue, food coloring is added to the spice mix. Personally, I'm not keen on this ingredient, so I prefer versions using natural colorants like turmeric or paprika.
You can make this recipe using any part of the chicken. However, I'd recommend going for the thigh and drumstick, as they're the juiciest parts. But, if you only have chicken breasts, go ahead and make this delicious recipe; I assure you the result is worth the minimal effort.
So, let's get those spice jars out and get started with the recipe! If you're a fan of chicken dishes, don't miss out on our Oven-Baked Chicken.
Ingredients for Tandoori Chicken for 2 people
Chicken thighs – 4 pieces
Yogurt – 125 grams
Black pepper – 1/4 tsp
Spicy paprika – 1/2 tsp
Garlic powder – 1/4 tsp
Lemon juice – from 1/2 lemon
Cardamom – 2 pods
Garam masala – 1/4 tsp
Nutmeg – 1/4 tsp
Ground cumin – 1/4 tsp
Salt – to taste
Ginger – 1/4 tsp
Sweet paprika 1 tsp
How to make the recipe Tandoori Chicken
Begin by removing the skin from the chicken thighs. Use a sharp knife or scissors. It's important to remove all skin so the spice and yogurt mixture can penetrate the meat.
After skinning, make several cuts on each thigh to facilitate the absorption of the marinade in which we'll marinate the chicken for several hours.
Mix yogurt, lemon juice, and other ingredients in a bowl. Be sure to open the cardamom pods and use only the seeds inside.
Once the marinade is ready, coat the chicken thighs thoroughly. Leave them immersed in the mixture, cover with plastic wrap, and refrigerate overnight.
Every one or two hours, stir the chicken to ensure even marination.
The next day, preheat the oven to 200°C (392°F). Place the marinated chicken in an ovenproof dish, covering with any remaining marinade.
Bake at 392°F for about 40 minutes or until the chicken is golden brown. Halfway through, turn the chicken pieces to ensure even cooking.
Once cooked, when they are golden, remove from the oven and serve.
Notes and Tips
Consider pairing this dish with basmati rice, couscous, fried potatoes, grilled vegetables, or any other side of your choice.
The longer the chicken marinates, the more flavorful it will be. It's recommended to marinate for at least 8 hours.
Feel free to adjust the spices to your taste. Some stores offer a specific spice blend for this chicken called "tandoori masala", but you can always create your own version based on your preference.
Latest posts by Cocina Casera English
(see all)
What to eat today? Search by ingredient or recipes