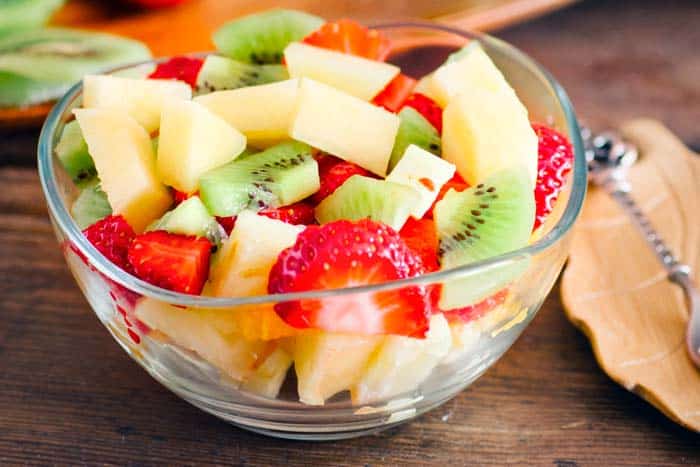 15 m
Calories: 110
Easy
4 people
A fruit salad is a dish that has only about 110 calories, depending on the fruits you use, to which you would need to add about 60 more for the syrup. Therefore, you can make it with just the fruits if you want a lighter and fewer calorie dish. It's always a good choice as a homemade dessert recipe for the little ones, as well as a fruit puff pastry tart.
The hot weather arrives, and to combat it, nothing better than a cold fruit salad recipe. Served in a glass to delight your guests. Presentation is essential in all our dishes, but if you also have small children, displaying the fruit in such an attractive way will make it easier for them to eat without fuss.
Another presentation that greatly appeals to the kids is fruit skewers with melted liquid chocolate on top. Either of these will significantly reduce any initial reluctance to eat the fruit (or so I hope), which is so important in our diet.
I advise you to keep all the fruit in the refrigerator for at least one full day to enjoy a very cold fruit salad. You can also add some ice cubes to the syrup, stir well, and remove them before serving the glasses. How to make syrup? Very simple, after making the fruit salad, I'll explain how.
Ingredients for Fruit Salad in Syrup for 4 people
Apples – 2 units
Strawberries – 300 grams
Mandarins – 2 units
Banana – 1 unit
Kiwis – 2 units
Water pears – 2 units
Pineapple in its juice – 2 slices
How to make the recipe Fruit Salad in Syrup
FRUIT SALAD RECIPE:
Wash all the fruit pieces thoroughly. Peel and chop them. Try to place a varied amount of pieces in each glass.
SYRUP RECIPE:
In a saucepan, put 1/2 L of water, add 3 tablespoons of sugar, and bring to a boil. Stir continuously for 2 or 3 minutes. After this time, turn off the heat and let it cool in the refrigerator. Our syrup is now ready.
Notes and Tips
Place the chopped fruit pieces in a transparent glass, as wide as possible, ensuring a variety from each type and drench with the syrup. You can decorate it with some mint leaves.
Latest posts by Cocina Casera English
(see all)
What to eat today? Search by ingredient or recipes