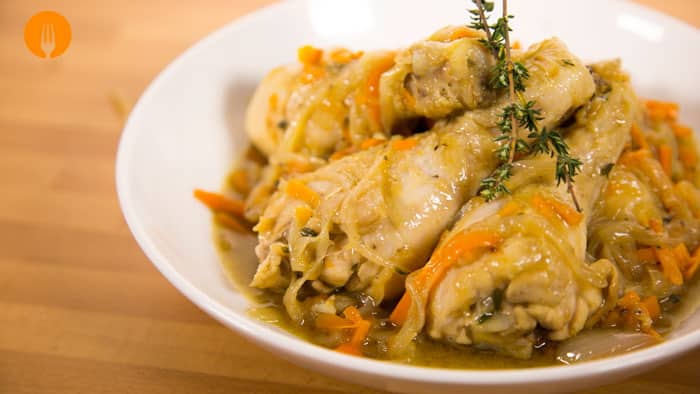 50 m
Calories: 172
Easy
2 people
If you're looking to cook an easy, affordable, and delicious dish, don't hesitate to try our beer chicken. This recipe is perfect for any occasion, allowing us to enjoy a flavorful dish that will have you dipping bread and licking your fingers. Since chicken is versatile in preparations, you can also check out our chicken with pineapple recipe, which also offers a tasty dish in no time... Ready to give it a try?
Ingredients for Beer Chicken for 2 people
Chicken Thighs - 5 pieces
Onion - 1 large
Carrots - 1 unit
Beer - 1 glass
Thyme - 1 small sprig
Salt - to taste
Black Pepper - to taste
Olive oil
How to make the recipe Beer Chicken
Start by peeling and julienning the onion and slicing the carrot into thin strips
Season the chicken thighs with salt and pepper, and lightly coat them with flour. Add some olive oil to a pot and heat over medium flame.
Add the thighs, ensuring to sear them well on both sides so they remain juicy inside. Remove and set aside.
Add the vegetables to the pot, and after about 10 minutes, once they're softened or the onion is translucent, return the thighs to the pot.
Pour in the glass of beer and a pinch of thyme, and let it cook for 40 minutes over medium heat until the beer evaporates and the sauce thickens. Enjoy your beer chicken!
Notes and Tips
This dish is highly versatile, making it great to serve for a meal or even to pack for work. It reheats well in a microwave. Pairing it with boiled or fried potatoes works wonders…
Latest posts by Cocina Casera English
(see all)
What to eat today? Search by ingredient or recipes