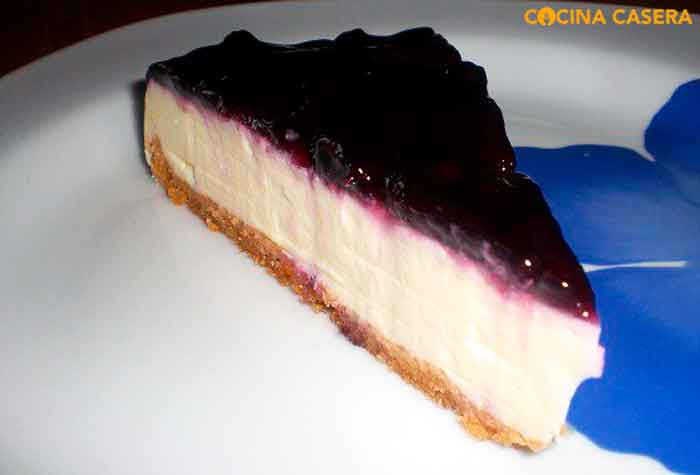 1 hours y 10 minutes
Calories: 321
Easy
4 people
We bring you a delightful blueberry cheesecake. This is one of my favorite dessert recipes, alongside apple pie, perfect for both desserts and snacks. An easy and homemade recipe that won't be too much work with our step-by-step guide. The only catch, so to speak, is that you have to let it sit in the fridge for an entire day for the cheese cream to set and firm up, giving the cake its consistency. I say it's a catch because you can't eat it immediately! Haha. So it's a bit more elaborate than the simple cheesecake recipe I showed in another post.
I tried to make a clean cut of the cake so you can clearly differentiate the three layers: the biscuit and butter base, the cheese cream, and lastly, the wild blueberry jam that covers the entire surface. Now, here's the step-by-step recipe and photos of the process. Most of this dessert is prepared without baking, as it's a cold cake. We only bake the base; the rest sets in the fridge. I hope you like it and if you make it, enjoy it as much as I do.
Ingredients for Blueberry Cheesecake for 4 people
600 grams of cream cheese (like Philadelphia)
400 milliliters of whipping cream or heavy cream
170 grams of Maria cookies
250 grams of wild blueberry jam
70 grams of butter
5 heaped tablespoons of sugar
1 glass of water
1 packet (85 grams) of lemon gelatin
How to make the recipe Blueberry Cheesecake
Steps for Blueberry Cheesecake:
Crush the Maria cookies and add the previously melted butter, which you can warm in the microwave for about 15 seconds. Mix well.
Spread the biscuit base in the cake mold, making sure it's even.
Preheat the oven and reduce the temperature to 392ºF, using both top and bottom heat. Bake the base for 10 minutes.
After those 10 minutes, take it out of the even. Let it cool afterward.
How to prepare the Cheese Cream:
In a medium bowl, whisk together sugar, whipping cream, and cream cheese until smooth. Heat the water until almost boiling, add gelatin, stir to dissolve. Once cooled slightly, gradually incorporate it into the cheese mixture, whisking continuously.
Pour the cheese cream over the cooled base and refrigerate for a full day.
Final Touch. Blueberry Jam Topping:
Place blueberry jam in a saucepan, add a splash of water, and microwave for 15 seconds. This way it will dissolve which makes the jam a bit more spreadable.
Spread the jam evenly over the cheesecake. Store in the fridge until ready to serve. Your cheesecake is now ready to enjoy whenever you wish, but always keep it refrigerated. Enjoy it! And let us know whether you like it or not.
Notes and Tips
You can use any fruit preserve or jam for the topping, such as strawberry or peach. I chose blueberry because I love it. Specifically, I use a less refined version that contains fruit pieces, a French brand named "ST. Dafour", in case you're interested.
I also chose lemon gelatin over a neutral one because I love the slight touch it adds to the flavor. But use whatever you prefer.
As you can see, it's a delightful, simple, and quick-to-make dessert that will surely impress your guests. I hope you liked it. If you have any questions regarding this recipe, just leave a comment, and I'll be happy to answer. Enjoy!
Latest posts by Cocina Casera English
(see all)
What to eat today? Search by ingredient or recipes