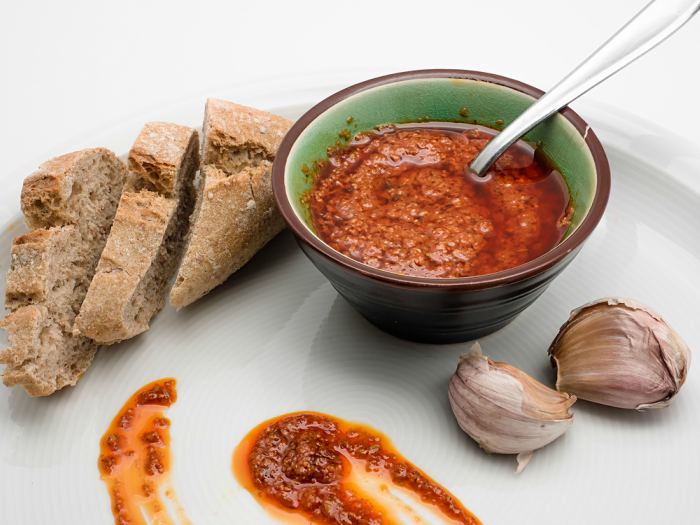 12 m
Calories: 560
Easy
4 people
As you may know, the typical sauce from the Canary Islands has found great success beyond its borders. Everyone claims to have the original recipe, and I won't be any different; this is the recipe for Canarian red mojo picon that a friend taught me. Honestly, I don't know if it's the original or not, but its flavor closely resembles what I tasted on these wonderful islands, so I bring it to you so that you can make your favorite Canarian sauce in a few simple steps.
Another typical Canarian sauce that you can't miss is green mojo sauce and, of course, the wrinkled potatoes.
And please, if any Canarian knows a better recipe, feel free to share it on our Facebook page or write me an email. I'd be delighted to respond, and I'd try out your recipe to improve mine as much as possible.
Canarian red mojo picon, along with green mojo, is one of the most famous sauces from these islands. There is no single recipe but a set of variations since it's so popular, and every household prepares it in a different way. It's even said to be hard to get the same mojo picon each time! One of its characteristic ingredients is the picona pepper or capscicum anuum, a native variety. If you like learning about traditional sauce recipes, don't miss this one for mojo picon. Here on Cocina-casera.com, we're sharing it with you.
History of Canarian mojo
This famous Canarian sauce has influences from Guanche cuisine and also from Latin American cuisine. Throughout the 19th and 20th centuries, the Canary Islands had a strong cultural relationship with countries like Venezuela. Its strategic location in the ocean made it a meeting point for many maritime routes.
The origin of this famous sauce is uncertain. We know that the name comes from the Portuguese term 'molho,' or sauce, and its spicy seasoning and texture are reminiscent of sauces from Mexico, Argentina, and Venezuela. There are more than 20 different types of mojos, like fried mojo with oregano and tomato, offal mojo, or red or green pepper mojos.
Ingredients for Canarian Red Mojo Picon for 4 people
Garlic cloves – 5
(Capsicum anuum) – 2 (you can substitute 2 chili peppers)
Sweet paprika – 1 teaspoon
Cumin – ½ teaspoon
Mild-tasting olive oil – 250 ml
White vinegar – 50 ml
Coarse salt – to taste
How to make the recipe Canarian Red Mojo Picon
Clean the picona peppers of seeds if you prefer it to not be too spicy. You can find these Canarian peppers in gourmet supermarkets or online. If you can't find them, you can also use two chili peppers. Peel the garlic and cut into small pieces. Wash, cut, and remove the seeds from the red pepper. The traditional preparation of Canarian mojo picon is always in a mortar, although a trick to get a good result is to lightly crush it first in a grinder and finish with the mortar. You save time, and the sauce comes out very smooth.
Put the picona peppers (or chili peppers) cleaned of seeds and the garlic into the grinder. Grind for a few seconds until it is quite reduced. Then pour the contents of the grinder into the mortar. This way, the mojo is more pleasant in the mouth without too many lumps. Add a little oil, paprika, cumin, and vinegar to the mortar. Start mashing the ingredients until you get a homogeneous paste.
Since this sauce contains a lot of oil, it keeps well for at least 15 days if you store it in an airtight container in the refrigerator.
Notes and Tips
This recipe can also be made by adding sweet red pepper and a little less paprika, resulting in a milder flavor that pairs very well with white meats. Enjoy your Canarian red mojo picon!
Latest posts by Cocina Casera English
(see all)
What to eat today? Search by ingredient or recipes