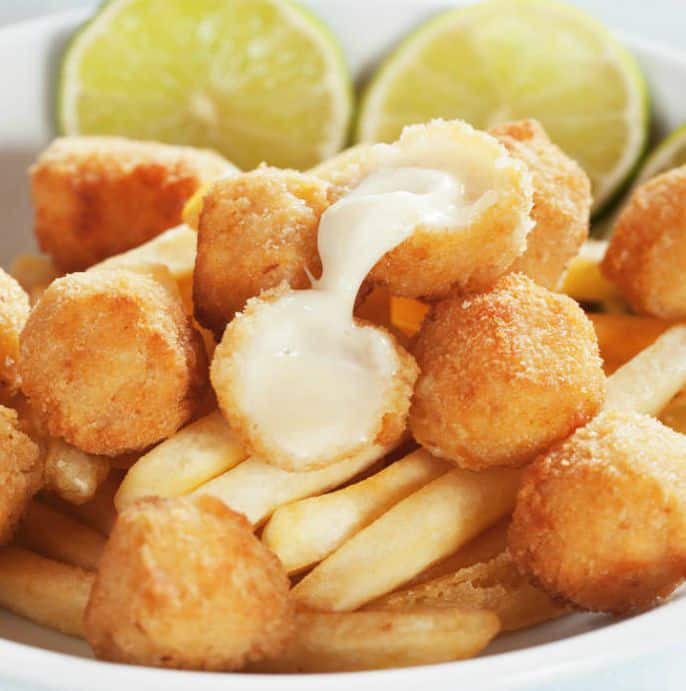 20 m
Calories: 240
Easy
4 people
Do you fancy some cheese balls with a hint of oregano? They are an easy appetizer you can prepare with any cheese you have at home. If you like assorted tapas recipes, give them a try and see how much you enjoy them. On this website, we'll show you how to prepare these balls as an easy snack for any occasion.
The success of cheese balls
Cheese balls are prepared in different ways, depending on the country. In Italy, it's made with mozzarella bocconcini, in Venezuela by mixing cheese and potatoes, in Brazil the cheese bread is traditional and in Paraguay, there are chipás. Some ingredients such as cornmeal or breadcrumbs for coating or different types of cheese may vary, but the recipe's base is very similar.
They combine a crunchy texture from the outer dough with the creamy cheese interior. Vegans also have their version by substituting cheese with tofu and egg with a bit of coconut milk. Being small in size, we save time if we prepare them in the pan; in just a few minutes they will be ready. You can pair them with various sauces, from the typical guacamole, with soy sauce, with ketchup or with a few drops of lemon. They are healthier and more nutritious than the typical chips. If you prepare these balls for any children's birthday party, watch them disappear!
Ingredients for Cheese Balls for 4 people
Mozzarella cheese bar - 200 g
Grated cheese - 150 g
Egg - 1 unit
Parmesan bread crumbs - 150 g
Extra virgin olive oil - 5 tablespoons
Oregano - a pinch
Salt - to taste
Pepper - a pinch
How to make the recipe Cheese Balls
In a bowl, mix the mozzarella cheese with the grated cheese, a little oregano, salt and pepper.
Prepare a plate with breadcrumbs and another one with an egg. Shape the cheese balls with your hands.
Dip the cheese balls in the egg and then coat them with the breadcrumbs, finishing shaping them.
Prepare a frying pan with olive oil, and when it is hot, fry the balls in batches until they are golden.
Let them rest on a plate with kitchen paper, serve with sweet chili sauce or your favorite sauce.
Notes and Tips
Did you enjoy our cheese balls recipe? Don't forget to check our other tapas recipes!
Latest posts by Cocina Casera English
(see all)
What to eat today? Search by ingredient or recipes