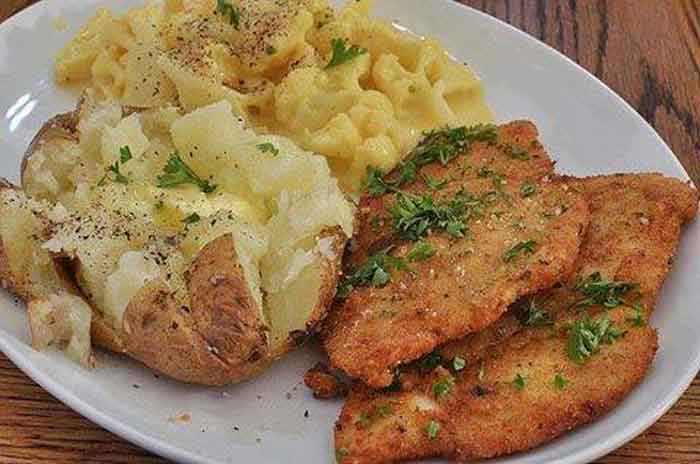 15 m
Calories: 160
Easy
2 people
Among the different chicken recipes, one of our favorites is the Chicken Milanese. This dish is very easy to prepare and versatile when it comes to sides - you can serve it with a medley of vegetables, boiled potatoes, or cauliflower with cheese, as in this case.
Ingredients for Chicken Milanese for 2 people
Chicken breast - 2 units
Fresh parsley - 1 tablespoon
Tomato - 1 unit
Onion - half a unit
Breadcrumbs - 1 cup
Dried parsley - 1 pinch
Egg - 1 unit
Olive oil - 200 milliliters
Salt
Pepper
How to make the recipe Chicken Milanese
If the chicken breast is thick, we can cut it in half into two parts. We can flatten them with the help of a rolling pin; to do this, place the breasts inside a plastic freezer bag and roll while applying pressure.
Add oil to the pan and heat. Meanwhile, chop the onion, the tomato, and the fresh parsley. Once the oil is hot, add these ingredients along with a pinch of salt and pepper, and cook for about 5 minutes over medium heat, stirring.
In one plate, beat the egg, and in another plate, mix the breadcrumbs with a pinch of salt and dried parsley.
Dip each chicken fillet first into the egg, letting it sit for a couple of minutes to absorb as much as possible, and then coat it with breadcrumbs. From there, place the fillets in the pan with the hot oil and the rest of the ingredients.
Depending on the heat intensity, cook each chicken fillet for about 4 or 5 minutes on each side. This will depend on the thickness of each fillet, and be careful not to overcook or burn them, as the breadcrumbs can darken easily.
Notes and Tips
You can serve this fantastic dish with boiled potatoes - it's very healthy and consequently, it avoids adding more fried foods, making it a lighter and less calorie-dense meal.
Additionally, you can also serve it with cooked cauliflower topped with melted cheese, creating a truly interesting side dish.
Latest posts by Cocina Casera English
(see all)
What to eat today? Search by ingredient or recipes