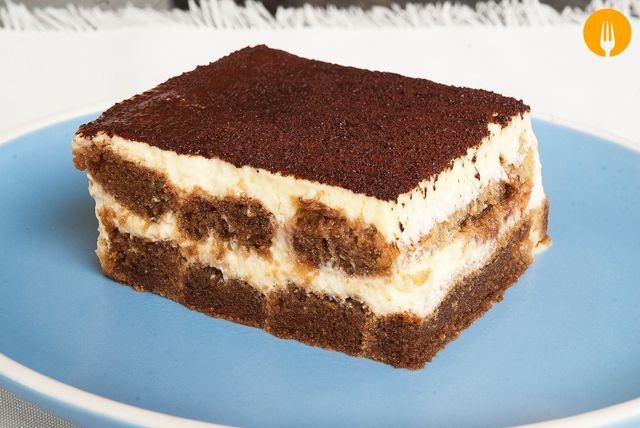 40 m
Calories: 284
Medium
8 people
In today's recipe, we bring you a homemade tiramisu video recipe, easy and simple, so you can achieve the best tiramisu, a cold Italian dessert and a classic among Christmas recipes, made with various ingredients layered together. Despite what purists may say, there isn't just one recipe, and variations can be found from one region to another. In addition to the recipe we're about to share, you can find another version of homemade tiramisu on our website. We encourage you to try both!
If you want to substitute Mascarpone cheese or can't find it, take a look at this
Mascarpone cheese is a cow's milk cheese similar to ricotta, a soft cheese with a mild and sweet flavor. You can substitute it with another creamy cheese, such as Philadelphia cream cheese or any other cheese with these characteristics.
Ingredients for Easy Tiramisu for 8 people
Eggs - 4 units
Mascarpone cheese - 250 grams
Sugar - 6 tablespoons
Amaretto - 4 tablespoons
Ladyfingers - 200 grams
Coffee - 500 milliliters
Pure cocoa powder - for dusting
How to make the recipe Easy Tiramisu
A few hours before, or the day before, prepare the coffee and let it cool before starting the recipe.
Add the sugar to a bowl. Beat with an electric mixer's whisk attachment until the sugar dissolves.
Crack the eggs and separate the whites from the yolks. Put the whites in the electric mixer's bowl and reserve them in the refrigerator. Pour the yolks into another bowl.
Next, add the mascarpone cheese and half of the Amaretto liqueur. Continue beating so that both ingredients are incorporated into the mixture. Whip the egg whites until stiff peaks form.
Fold the egg whites into the bowl. With the help of a spatula, gently mix using folding movements, aiming to retain as much air as possible in the whites, giving the mixture a light and fluffy texture.
Mix the remaining liqueur with the coffee. Pour some coffee into a wide container.
Dip the ladyfingers into the coffee, moistening both sides. Be careful not to soak them too much, as they may break.
Once they have absorbed some coffee, gently squeeze out the excess and place them on the base of a serving dish.
After covering the base with ladyfingers, spread half of the cream mixture over them with a spatula.
Next, add another layer of coffee-soaked ladyfingers. Now, spread the remaining cream over the top. Finish the dessert by dusting a thin layer of pure cocoa powder.
Once it's ready, cover with plastic wrap and refrigerate until the next day.
Notes and Tips
The quantities mentioned in this recipe are intended for a dish measuring 31 x 18.5 x 5.5 centimeters.
If you can't find Mascarpone cheese, you can substitute it with a creamy spreadable cheese; the flavor will vary, but it will still be delicious.
Amaretto liqueur can be replaced with another type of liqueur, such as cognac, rum, or whatever you prefer.
Among the ingredients typically used to make this delicious dessert, we can find:
Different types of sponge cake, with ladyfingers or Savoiardi being popular choices.
Eggs, with the yolks and whites separated, and the latter whipped to stiff peaks.
Mascarpone cheese, characterized by its cream-like consistency and distinct sweetness.
Pure coffee, which can be decaffeinated or not, and can be enhanced with a liqueur such as Amaretto, rum, cognac, etc.
Sugar.
Pure cocoa, often used to finish the dessert by dusting a thin layer that creates a delicious contrast with the coffee.
The original recipe has undergone significant changes over the years. Originating in the 1950s in Italian brothels where it was served to customers as a snack, it initially didn't include Mascarpone or other fatty elements, as the idea was to offer a light dessert to lift one's spirits.
One of the secrets to achieving a uniquely flavored tiramisu is to let it settle for several hours in the refrigerator. Our experience tells us that if we leave it for at least 24 hours, its flavor intensifies significantly, and we've even noticed further improvement after 48 hours. Yes, it is true; who can wait that long without taking a bite?!
In today's recipe, we propose our interpretation of this delicious dessert. As you'll soon see in the step-by-step process, it's an extremely simple preparation that takes very little time. Treat yourself to making this delicious dessert at home, and your entire family will be amazed by its flavor.
Latest posts by Cocina Casera English
(see all)
What to eat today? Search by ingredient or recipes