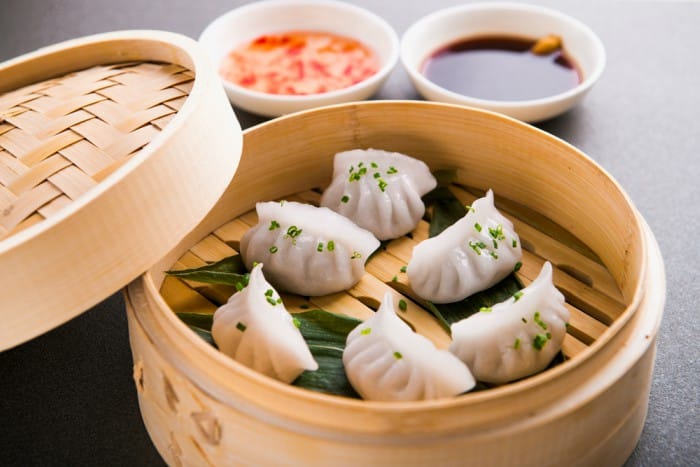 25 m
Calories: 25
Easy
4 people
Do you like dim sum? These are small bites filled with various ingredients like chicken, fish, or seafood. Steamed to perfection, they're traditionally served with tea according to Cantonese tradition. Chinese cuisine boasts gems like these. In Chinese, 'dim sum' translates to 'a light touch to the heart'. Let's dive into this recipe step by step with Home Cooking.
Dim Sum and the Silk Road
Tracing back the origins of dim sum, it's believed to have started about 2,500 years ago in northern China, later becoming synonymous with Cantonese cuisine. Initially, these bite-sized delicacies were reserved for the Emperor and his kin, or the affluent. However, over time, it became a staple along the Silk Road.
The trade routes established in the 1st century BC spread Chinese silk throughout Asia, reaching places like Syria, Persia, and even Europe, starting from the city of Xi'an. Travelers on these routes would stop at tea houses dotted along the path, where dim sum was a common offering. Over the years, various regions developed their own dim sum versions, such as the 'guangdong', 'cha siu bao', or 'haa gaau'.
In many Chinese cities, it's a tradition to have dim sum early in the morning. Families often gather at restaurants to savor various types of dim sum, a culinary specialty that has crossed borders and is now available in many oriental eateries.
Ingredients for Dim sum (serves 4)
For the dim sum
Chicken breast – 250 g
Bamboo shoots – 50 g
Dim sum wrappers – 16 (available in Asian supermarkets)
Sunflower oil – 1 teaspoon
Rice vinegar- 1 tablespoon
Powdered sugar – 1 teaspoon
Salt – 1 teaspoon
White pepper – to taste
For the sauce
Soy sauce – 3 tablespoons
Soy or sunflower oil – 1 tablespoon
Chili pepper – 1
Rice vinegar – 3 tablespoons
Sugar – 1 tablespoon
How to make the recipe Dim Sum
Heat oil in a pan, dice the chicken into small pieces, and lightly fry for about four minutes. Remove and combine with bamboo shoots, rice vinegar, sugar, a bit of salt, and pepper.
Fill each dim sum wrapper with a teaspoon of the mixture. Seal them by pressing the edges with your fingers.
Steam the dim sum using a steamer or a large sieve over a pot of boiling water (500 ml). Cook for 5 minutes.
Prepare the sauce by combining all its ingredients. Serve it separately with the dim sum for individual dipping.
Notes and Tips
Dim sum is best enjoyed fresh due to the delicacy of its dough and ingredients. They don't taste the same when reheated, for instance, in a microwave. If you've made homemade dim sum, you can freeze them before steaming. Did you like the recipe?
Latest posts by Cocina Casera English
(see all)
What to eat today? Search by ingredient or recipes