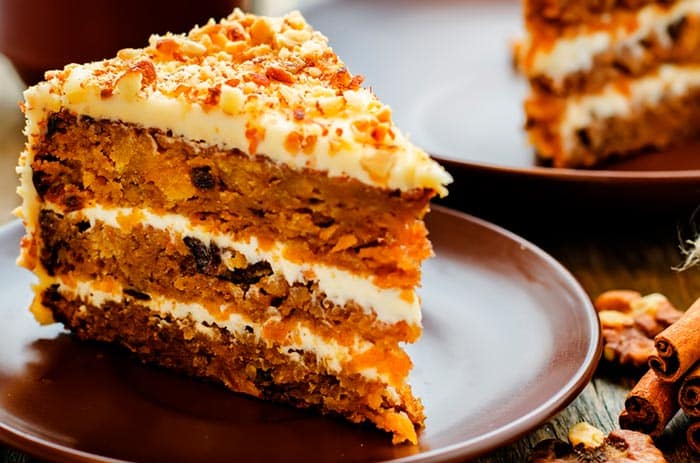 1 hours y 5 minutes
Calories: 384
Medium
4 people
This dessert is incredibly juicy and light. Since carrots are the main ingredient, you should choose the best quality ones to ensure the Carrot Cake has the best outcome.
You can grate the carrots with a food processor, but the pieces will be slightly larger. You can also do it by hand or buy pre-grated carrots. The goal is to have them as finely grated as possible.
The cake is very versatile. You can make it with or without nuts and raisins, or add other nuts like almonds.
Ingredients to prepare carrot cake for 4 people
For the carrot cake
260 grams of all-purpose flour
2 teaspoons of baking soda
1 teaspoon of salt
1/2 teaspoon of ground cinnamon
295 milliliters of sunflower oil
200 grams of sugar
200 grams of brown sugar
1 teaspoon of vanilla extract
4 large eggs
5 to 6 medium peeled and grated carrots
100 grams of chopped walnuts
65 grams of raisins
For the cream
225 grams of cream cheese, like Philadelphia
140 grams of powdered sugar
80 milliliters of whipped cream
80 grams of large chopped walnuts for the cake
How to make the recipe Easy Carrot Cake
Steps to prepare the mixture: Preheat the oven to 356°F. Grease two round 20 or 22-centimeter pans with butter and place parchment paper on the bottom. Grease the paper and the sides of the pan with butter.
In a mixer, combine the flour, baking soda, salt, and cinnamon until well mixed. In a separate bowl, whisk the oil, both types of sugar, and vanilla. Beat the eggs until they are combined.
Scrape the bottom of the mixer with a spatula and ensure everything is mixed. Add the dry ingredients in 3 parts, stirring gently with the spatula until the batter is ready. Add the carrots, walnuts, and raisins.
Steps to prepare the cake: divide the batter between the prepared cake pans or molds. Bake until the top of the cake is slightly elastic when touched, and when a skewer is inserted in the center it comes out clean (about 35-45 minutes of baking).
Allow the cakes to cool in the pans for 15 minutes, then remove and let them cool completely.
In a large bowl, beat the cream cheese at medium speed until creamy (about 1 minute). Beat in the sugar until it is fluffy. Add the cream and beat at medium speed for 1 minute. Let it chill while covered, until it is ready to frost the cake.
To conclude: when the layers of the cake are solid, stack one layer on top of the other to complete the cake, afterwards it will be ready to be cut into delicious portions.
Notes and Tips
It is important to grease the molds very well to avoid getting a surprise and finding the cake stuck. If it is stuck, turn the mold upside down and let gravity do its work.
Latest posts by Cocina Casera English
(see all)
What to eat today? Search by ingredient or recipes