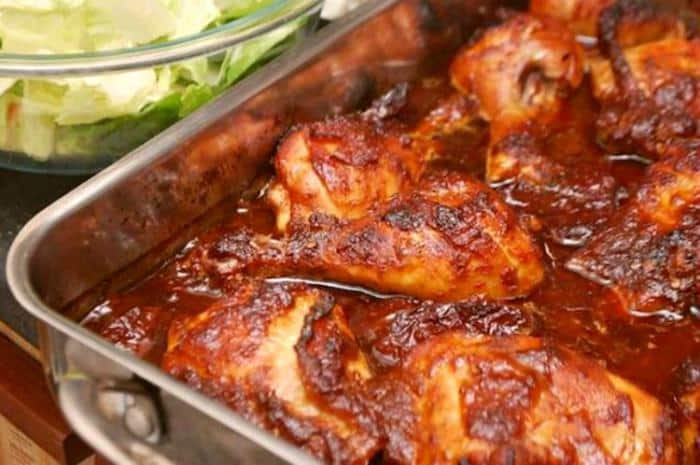 40 m
Calories: 160
Easy
4 people
Enjoy this flavorful chicken in wine recipe, cooked slowly with Mediterranean ingredients such as onions, garlic, green pepper, and olive oil. Remember that the better the wine, the better the sauce – you'll only need 250ml of wine, so if you have an open bottle of good wine, use it! It's worth it. If you need to buy wine, try a Jerez like Pedro Ximénez or a Moscatel, as their sugar content creates spectacular sauces. If you enjoy trying different chicken recipes, on this website, we present one you'll want to repeat: chicken in wine.
What wine should you use for cooking?
Whether it's white, rosé, or red, wine has been present at celebrations for centuries, used in sauces, marinades, and even desserts. In the 13th century, herring was already prepared with white wine. Each type of food pairs better with a specific type of wine. For example, when cooking red meats, it's best to use reds like Cariñena, Garnacha, or Monastrell – wines with body and many nuances. For cooking chicken in wine, dry white wines are recommended, but avoid acidic ones like white Grenache. If using reds, Jerez wines like Pedro Ximénez or the Moscatel variety are excellent.
Would you drink a glass of the wine you use for cooking? If the answer is yes, use it in this recipe; if the answer is no, because it's a cheap wine use it only for cooking. In that case, it's better to invest a few more dollars in a better wine. Recipes don't require a large amount, and you can use the rest of the wine for serving with the meal or on another occasion. The flavor of a cheap wine cannot compare with that of a Jerez or a Rioja, and you can find interesting wines for less than 6 dollars.
Ingredients for Easy Chicken in Wine for 4 people
Chicken hindquarters – 4 pieces
Onions – 3 units
Garlic cloves – 4 units
Green pepper – ¼ unit
Red wine – 250 ml
Herbes de Provence - 1 teaspoon
Sweet paprika – 1 teaspoon
Pepper – to taste
Salt – to taste
Bay leaf – 1 leaf
How to make the recipe Easy Chicken in Wine
Season the chicken hindquarters with salt and pepper. Add oil to a nonstick pan; whenit is hot, brown the chicken on the outside for two or three minutes per side to seal. Remove from the pan and set it aside.
Meanwhile, crush the garlic and cut the green pepper and onions into thin pieces. Place all the vegetables in a mortar or container and combine with paprika and herbes de Provence.
Remove the chicken from the pan and add the contents of the container, the sliced vegetables. Sauté for a couple of minutes until the onions become transparent. If it's too dry, add a couple of teaspoons of chicken broth.
Pour in the red wine, a bay leaf, the chicken broth, and the chicken hindquarters. Lower the heat and cook for 20 minutes, plus five minutes to let it settle.
Carefully remove the chicken and place it on a plate, also remove the bay leaf.
Pour the remaining ingredients and the leftover broth from the bottom of the pan into a container or glass suitable for blending. Blend until a smooth sauce is achieved (depending on your preference for texture).
Place the chicken on a serving platter and pour the wine sauce over it. Taste and adjust the seasoning if necessary.
Notes and Tips
Replace the red wine with dry white wine (non-acidic) and you'll achieve a milder sauce. You can add spices like tarragon or cilantro, which also pair well with poultry.
Latest posts by Cocina Casera English
(see all)
What to eat today? Search by ingredient or recipes