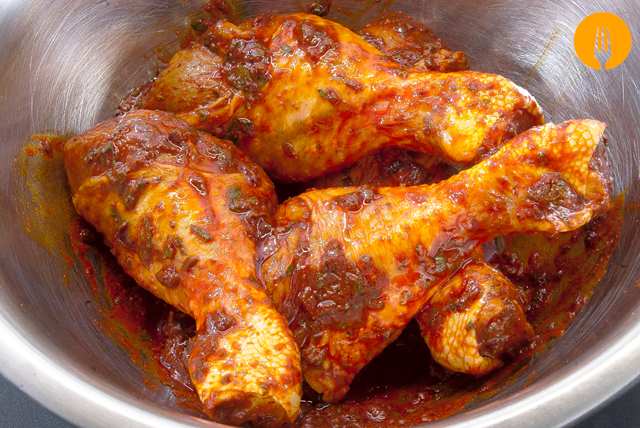 10 m
Calories: 133
Easy
2 people
Marinade is a sauce made with various ingredients (paprika, garlic, salt, oregano, vinegar, etc.) used to enhance the flavor of many foods (meats, fish, vegetables, etc.). Applying Chicken Marinade involves placing the food in the sauce and marinating for several hours so that the flavors of the different components penetrate the tissues of the foods being marinated. The proportion of each ingredient will depend on the type of food to which the marinade will be applied. On this website, we have various recipes in which we use this technique, including our marinated pork loin and our grilled marinated pig's ear.
In the recipe we present today, we have made a sauce with various herbs and spices. The resulting product is ideal for marinating various types of meat, including chicken. Feel free to add other ingredients that you like, as marinades are very versatile and can accommodate all kinds of combinations of herbs and spices.
When applying this sauce to chicken, it is important to do so several hours before you plan to cook it. We prepare the mixture of ingredients the night before and coat the pieces of meat with it. Then, we let it settle in the refrigerator until the next day. From time to time, we take out the bowl and turn the pieces of meat so that the marinade permeates them evenly on all sides.
Ingredients for Easy Chicken Marinade for 2 people
Olive oil – 60 milliliters
Lemon juice – 20 milliliters
Sweet paprika – 2 small tablespoons
Spicy paprika – 1 small tablespoon
Salt – to taste
Oregano – 3 large tablespoons
Basil – 1 large tablespoon
Parsley – 3 large tablespoons
Rosemary – 1 small tablespoon
How to make the recipe Easy Chicken Marinade
We start the recipe by finely chopping all the herbs for the marinade. To do this, we must remove the stems, especially those of the woodier herbs, such as rosemary and oregano. In the case of basil and parsley, we have chosen to remove them as well, but you can leave them if they are tender. Once they are chopped, place them in a bowl
Next, add both types of paprika and mix with a spoon. Then, pour the lemon juice into the bowl and mix again.
Now, pour in the oil. With a whisk, mix all the ingredients well so that they are well coated with oil.
Finally, add the salt and whisk once more. Our marinade is now ready to apply to any meat.
Notes and Tips
The preparation of a marinade is not limited to specific ingredients; you can use all kinds of herbs or spices, as well as various acidic (vinegars, citrus juices, etc.) or fatty (mainly different types of oil) mediums. Therefore, feel free to change any ingredients you don't like in this recipe and add others that are more suited to your taste. Experimenting will yield surprising marinades.
Discover now the video on how to make Fish Marinade and Rib Marinade.
Latest posts by Cocina Casera English
(see all)
What to eat today? Search by ingredient or recipes