Easy Homemade Vegetable Soup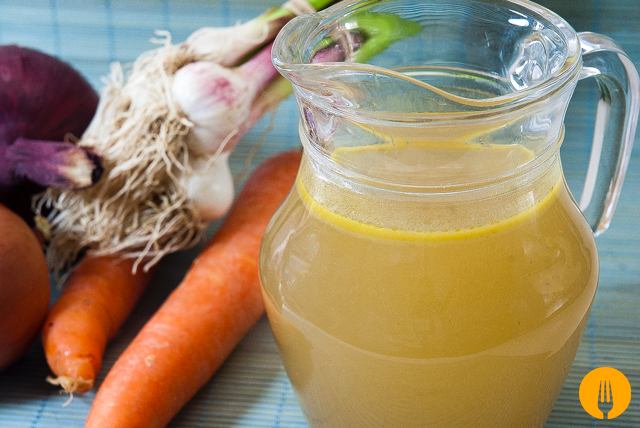 1 hours y 16 minutes
Calories: 5
Easy
5 people
Homemade vegetable broth is a basic recipe and making it at home is very simple. You just have to peel and chop a few vegetables and cook them with water until you extract all their flavor. Additionally, we're going to give you some tricks to get an incredible flavor and two video recipes for you to choose which one you like more:
At the end of the recipe, I leave you with another video with a variant in case you want to make this same homemade vegetable broth even more delicious!
This is one of the broth recipes that you will use the most when cooking, as its flavor is mild and perfectly combines with a large number of ingredients. It's also very light, depurative and diuretic, so you can take it both for lunch and dinner.
Having homemade vegetable broth is always a good resource to cook other recipes, so you can freeze this broth once prepared and use it on other occasions. With it, you can prepare, for example, rice dishes or this vegetable fideuá, also stew and stew recipes, among many other dishes.
In addition, this recipe accepts multiple variants. You can add or remove any vegetable to your liking, or even add mushrooms. These are very aromatic in this type of preparation. Our recommendation is to choose seasonal vegetables. These will be at their optimal consumption time and that's when they will have the most flavor.
We don't want you to waste any time. So we're going to show you how to prepare a delicious and nutritious homemade vegetable broth. Keep this recipe close because we're sure you'll use it very soon. We hope you like it!
Ingredients for Easy Homemade Vegetable Soup for 5 people 1 unit
Leek - 1 unit
Onion - 1 unit
Carrot - 1 unit
Garlic cloves - 2 units
Potato - 1 unit
White wine - 32 ml.
Salt - 30 gr.
Ground black pepper - 10 gr.
Bay leaves - 2 units
Olive oil - 45 ml.
Water
How to make the recipe Easy Homemade Vegetable Soup
In a deep casserole, we pour a drizzle of oil, add the chopped onion, garlic cloves, carrot, potato, and green leek leaves, all chopped as well. We fry it for 5 minutes, stirring occasionally.
After that time, we add the white wine and let it evaporate on high heat. We add 3 good pinches of salt, another pinch of ground black pepper and the bay leaves. We stir well and add water to cover all the ingredients.
We let it boil on high heat, then lower to medium heat and let it cook for about 1 hour.
Finally, we only have to strain the broth with the help of a strainer.
Notes and Tips
Now that we have the homemade vegetable broth ready, it can be used to prepare other recipes, drink it freshly made if you want something warm (it also lasts perfectly for 3 or 4 days in the refrigerator), or wait for it to cool to freeze it.
We hope you liked this simple recipe. If so, tell us about it through the comments and let us know what dishes you usually prepare with homemade vegetable broth.
If you want, you can share this recipe through social networks with your foodie friends or family because as we always tell you, cooking for yourself is more fun and healthy.
Latest posts by Jose Balandin
(see all)
What to eat today? Search by ingredient or recipes