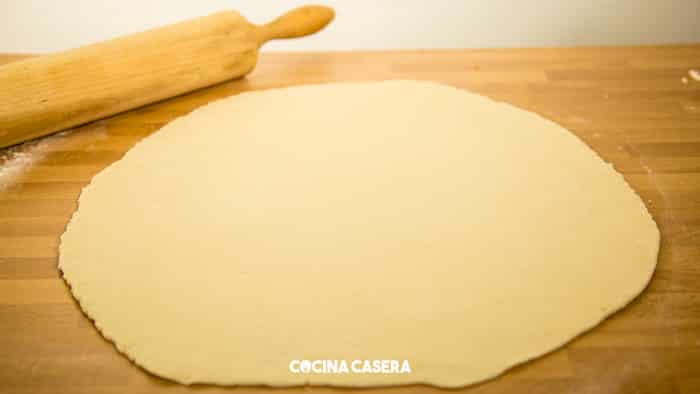 1 hours y 20 minutes
Calories: 228
Easy
2 people
This easy, quick, and thick Pizza Dough (Argentinian style) is tender and very fluffy, remember that we also have our thin and crispy pizza dough recipe. With this recipe we will get crispy edges, and a higher dough, in which we can add our favorite ingredients, such as pizza tomato sauce, cheeses (you can mix several styles of strong cheeses if you are a cheese lover), ham, pepperoni, tuna, minced beef, roasted peppers, corn, etc. and mix them as we like!
We can also use countless sauces, such as barbecue pizza, chimichurri, pesto, Caesar... And the great advantage of this recipe is that if we have some leftovers in the fridge like a roast chicken, we can use them perfectly, you just have to use your imagination.
That's why it's such an easy and successful recipe, and it's not laborious at all, all it needs is a little previous time to let it rest and get that thickness.
Ingredients for Easy Pizza Dough for 2 people
Strong flour - 300 grams
Water - 1.5 cup
Dry yeast - 3 grams
Olive oil - 3 tablespoons
Salt - 2 tablespoons
How to make the recipe Easy Pizza Dough
On our counter, we pour the flour, over it the yeast and stir.
Then we make a small volcano in the middle and add half of the oil and water. We stir and pour the remaining oil and water.
We knead hard until the dough does not stick to our hands, it is a firm dough. We place it in a bowl, cover it with a cloth or plastic wrap and let it settle for 1 hour.
After this time we sprinkle a little flour on the counter, place our homemade pizza dough and stretch it with the help of a rolling pin.
Notes and Tips
Keep in mind that this type of pizza, being thick, has to have a lot more tomato and cheese than thin and crispy style pizzas, as the dough is not going to break, and being so thick it will be more proportional. Otherwise, we eat a pizza with a lot of dough, dry and with little flavor.
Latest posts by Cocina Casera English
(see all)
What to eat today? Search by ingredient or recipes