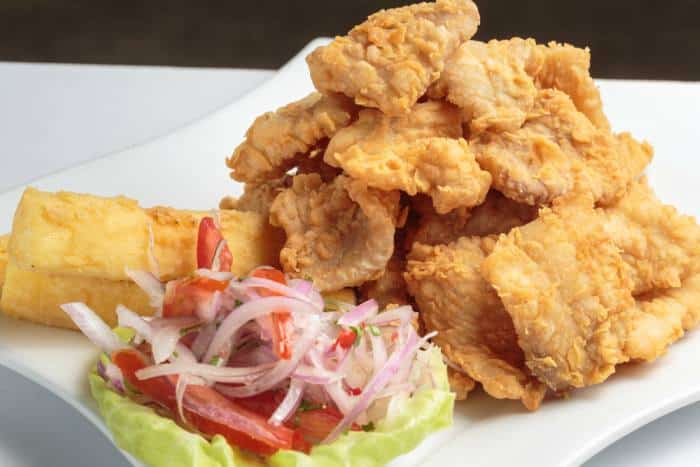 25 m
Calories: 420
Easy
4 people
Delicious fish crackling! A Peruvian recipe that stands out for its simplicity, similar to our battered fish, you'll find it in any Peruvian restaurant, just like the chicken bell pepper . On this website, we share the step-by-step process for this traditional recipe.
In Spain and other countries, cracklings are recipes that include pork fat. For example, in Andalusia, cracklings are made from pork after melting the lard. In other areas, they are called 'pork rinds' as in Castilla y León. In Mexico, for example, it is the dry pork skin fried in lard, while in Guatemala and Panama, it revolves around dishes with pork. However, in Peru, cracklings refer to any fried dish of animal origin, whether it's fish, chicken, or seafood.
Ingredients for Fish Cracklings for 4 people
Hake (can be frozen) - 500 g
Cornstarch or corn flour - 250 g
Garlic powder - 2 teaspoons
Eggs- 2 units
Dried rosemary - ½ teaspoon
Salt - to taste
Pepper - ¼ teaspoon
Lemon juice - from one lemon
Mild-flavored olive oil - 80 ml
How to make the recipe Fish Cracklings
The crackling can be made with other fish like sole or cod. If you buy it frozen, it's advisable to leave it in the fridge the night before. This way, it will be defrosted for the recipe. Dry the fish well with a cloth or paper towel. Cut the fish into bite-sized pieces.
Add the corn flour to a container, mix with rosemary, lemon juice, salt, garlic powder, and pepper. Add the fish pieces to this mixture and coat well on all sides. Let it rest for ten minutes.
Prepare two plates, one with the two beaten eggs, and another with paper towels. Heat a pan with oil over low heat. Dip the battered fish in the beaten egg, drain, and place it in the pan. Turn the heat to medium. Cook the fish until golden brown. Let it settle on a plate with paper towels.
Serve with lemon or mayonnaise.
Notes and Tips
You can also prepare cracklings with oily fish, but it will be heavier due to the higher fat content and the fact that it's cooked in oil.
Latest posts by Cocina Casera English
(see all)
What to eat today? Search by ingredient or recipes