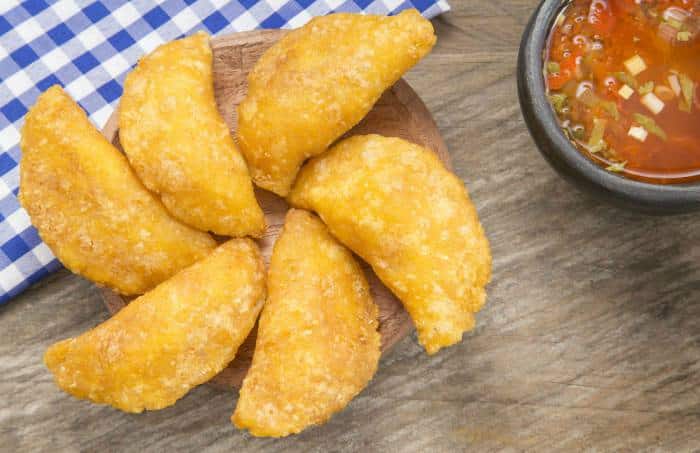 45 m
Calories: 220
Easy
4 people
How good do these fish empanadas look? You can prepare them with your favorite fish; we used cod, a white fish that is reasonably priced. They are filled with a sauté of tomato, onion, and peppers, and boiled egg. If you enjoy dough recipes, on this website, we will tell you how to make fish empanadas.
When did empanadas originate?
The origin of empanadas is ancient; we find representations of empanadas (Galician empanada) in the 12th-century sculptures of Maestro Mateo in the Cathedral of Santiago de Compostela and in the Gelmírez Palace. However, it seems that several centuries before, in the Greco-Roman era, a type of empanada was already being prepared.
The recipe spread throughout the Middle East, where they were prepared with corn or wheat dough. Today we find empanadas all over the world from the Greek spanakopita with spinach and Greek cheese, Italian panzerotti, Galician empanada in Spain, or the famous Argentine empanadas. In Colombia, Costa Rica, and Mexico, we also find empanadas with different fillings.
Ingredients for Fish Empanadas for 4 people
Dough
Cornflour - 160 g
Food coloring or saffron - ½ teaspoon
Water - 400 ml
Salt - to taste
Mild olive oil - 1 tablespoon
Lemon juice - to taste
Filling
White fish (can be frozen) - 150 g
Onion - 1 unit
Garlic cloves - 2 units
Green pepper - 1 unit
Fried tomato - 150 g
Boiled eggs - 2 units
Sweet paprika- ½ teaspoon
How to make the recipe Fish Empanadas
Sift the flour with a sieve into a bowl, add the coloring, water, and oil until you form a dough. Make a ball and cover with a cloth, let it settle for 25 minutes.
Meanwhile, prepare a pot with water on the heat, add the eggs and cook for 10 minutes. Then remove the eggs and let them cool in a container with cold water.
For the filling, we will use desalted cod, but it can also be hake or any other white fish. If it's frozen, you just have to leave it in the fridge overnight.
Finely chop the onion, garlic, and pepper. Sauté in a pan with oil, first the onion alone for four minutes, then add the garlic and pepper and sauté for two minutes and incorporate the fried tomato. Sauté for four minutes.
Incorporate the shredded fish and cook for two minutes, then turn off the heat. Cover the container and let it settle for four minutes.
Incorporate the shredded fish and cook for two minutes, then turn off the heat. Cover the container and let it rest for four minutes.
Meanwhile, peel the boiled eggs and grate them finely, combine with the previous sauté.
Retrieve the empanada dough and make about 15 balls, then flatten the dough balls with a plate, add a tablespoon of filling and fold the empanada, shaping the edges with your fingers and a fork.
Prepare a pan with oil and a plate with kitchen paper. When the oil is hot, fry the fish empanadas for two minutes or until golden. Then let them rest on the plate with kitchen paper to drain the excess oil.
Serve accompanied by vinaigrette sauce or a few drops of lemon juice.
Notes and Tips
Hope you liked our moutwatering fish empanadas recipe! Don't forget to check other recipes.
Latest posts by Cocina Casera English
(see all)
What to eat today? Search by ingredient or recipes