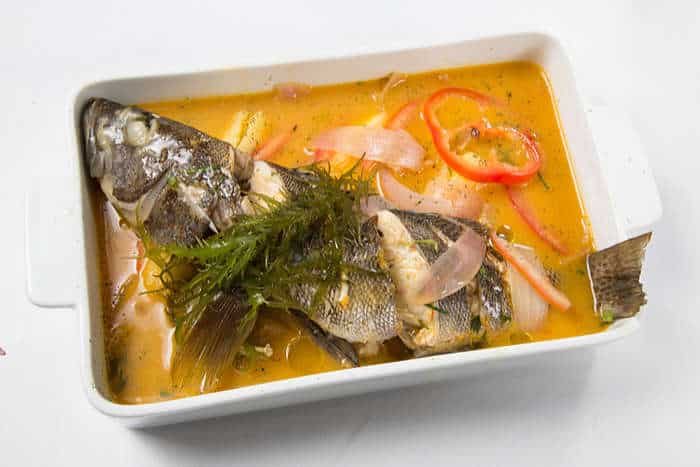 25 m
Calories: 230
Easy
2 people
If you enjoy experimenting in the kitchen and trying flavors from different parts of the world, you can't miss this fish recipe that will delight the whole family.  Fish stew is a typical Peruvian dish that offers a myriad of possibilities. This recipe has multiple versions depending on the region of Peru where it is prepared.
A little bit of history...
Fish stew originated on the Peruvian coasts, which are abundant in a great variety of fish. These fish have been the main sustenance for the inhabitants of these areas of Peru for a long time, giving rise to numerous recipes.
Traditionally, Peruvians enjoy fish barbecue, grilled, stewed, in soup, roasted, and even raw. On this occasion, we will cook it in a pan. It is important to use fresh fish for this recipe, as it is consumed in the coastal areas. If you have no other option but to use frozen fish, you can still make the dish, but it won't be the same.
A dish with many advantages
One of the best things about fish stew is that it is an easy and quick dish to prepare and highly nutritious. By using fish, it provides Omega-3, which has many benefits.
Dishes like this help us take care of our heart and circulatory system. Additionally, consuming fish rich in Omega-3 is very beneficial for the brain. If you are pregnant, this type of dish will be great for you due to its high nutritional value and low calorie content.
Another advantage of  fish stew is, as mentioned earlier, its many different versions. In northern Peru, it is often prepared with fish such as grouper or butterfish. In the southern part of the country, it is more common to find it with snook or sea bass. However, you can prepare it with your preferred fish. If you don't want to complicate things, use a more familiar species; and if you want to be more innovative, try exotic species. The best option, though, is to use fish that can be found on the coasts of Peru.
This time, we will use sea bream. We have already used this fish on more than one occasion, for example, to make baked sea bream. It is a species that is very easy to find in almost any part of the world. It is important to note that this recipe can be made with virtually any fish species. It is also important to know that we can cook fish stew with whole fish, fillets, or fish steaks, whichever is more convenient for us.
If you are making this recipe for children, we recommend using fish fillets and cleaning them beforehand. The idea is to enjoy this dish by mixing all the ingredients, so it's best to avoid the little ones encountering any fish bones.
The accompaniment
Fish stew is a very complete dish. We can have it as a main course or even as a standalone dish. However, to fully enjoy it and recreate the experience of eating it in Peru, it is best to serve it with rice. However, the rice should be cooked separately, not mixed with the fish. In fact, when serving, we should place the fish on one side and the rice on the other.
By choosing this accompaniment, not only do we enhance the flavors, but we also obtain a very complete meal. This dish provides proteins from the fish, carbohydrates from the rice, and vegetables as several vegetables are used in the recipe.
Ingredients for fish stew for 2 people:
For the fish:
Sea bream - 2 units
Lemon or lime - 2 units
Ginger - 1 small piece
Garlic - 1 clove
Onion - 1 medium-sized
Tomato - 2 units
Cilantro
Aji panca or chili - 1 tablespoon
Oil
Water
Oregano
Salt
Cumin
Pepper
For the accompaniment:
Rice - 120 grams
Water
Salt
How to make the recipe Fish Stew
Start by cooking the rice in salted water, stirring occasionally to prevent sticking. While the rice is cooking, chop the onion and tomato. You can slice them or dice them as desired. Also, finely chop half of the ginger and the garlic.
Heat oil in a pan. When it's hot, add the ginger and garlic. Once they are golden, add a tablespoon of aji panca or chili. Stir and add the onion.
Next, add the sea bream, which should have had the side fins removed and be cleaned beforehand (you can ask the fishmonger to do this). Give them a quick sear on each side to brown them. Then squeeze the lemon or lime juice over them, being careful not to let any seeds fall in.
Let it cook over medium heat. Sprinkle a little oregano. Sauté for a couple of minutes and add a cup of water. Season with a little salt, cumin, and pepper. Cover and let it cook for 5 minutes.
Once it has cooked, add the tomato and let it cook for a few more minutes. When the rice (which should have been stirred occasionally) is done, drain it. Serve the fish with the broth and vegetables. Serve with a plate of rice to which you can add a little lemon or lime juice. And it's ready!
Notes and Tips
If you're missing an ingredient or cannot consume it for any reason, you can substitute it with a similar one. The best thing about this dish is that you can be as innovative as you want, so don't hold back!
Latest posts by Cocina Casera English
(see all)
What to eat today? Search by ingredient or recipes