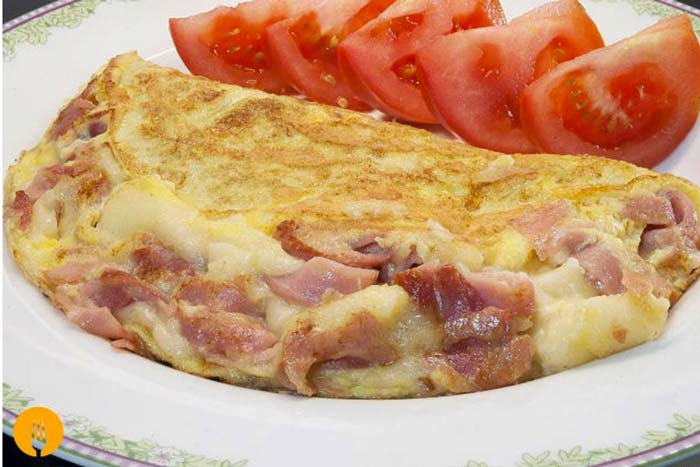 15 m
Calories: 217
Easy
2 people
A few days ago, we shared a fantastic recipe with you for creating a mushroom and cheese-filled omelette. Today, we're going to show you how to prepare it with sweet ham and two types of cheese, a combination that results in a deliciously flavored dish that we're sure both adults and children will enjoy.
From a nutritional standpoint, this is a very balanced dish that will nourish you with high biological value proteins, carbohydrates, and many other essential substances for the proper functioning of our body.
The preparation of this omelette is simple and very quick. In just about 10 minutes, it will be ready, making it an ideal dish for those who have little time for cooking but still want to enjoy a healthy and very tasty dinner.
If you like omelettes, we have a wide collection on our page. To view them, you only need to access our Egg and Omelette section or use our search engine.
Ingredients for French Omelette for 2 people
Eggs - 4 units
Milk - 40 grams
Ham - 100 grams
Sliced cheese - 40 grams
Olive oil - 1 large spoonful
Salt - to taste
Grated cheese - 35 grams
How to make the recipe French Omelette
First, we cut the ham and cheese into small pieces. The type of cut is up to you, I like to cut the ham into strips and the cheese into medium pieces.
Crack the eggs and pour their contents into a bowl. Add the salt and milk, and beat with a fork.
Heat a little olive oil in a pan and pour in the contents of the bowl. Cook over medium heat until the egg starts to set and begins to detach from the sides of the pan. Typically, the egg should be ready in 3 or 4 minutes.
At this point, distribute the ham and both types of cheese on one half of the omelette, leaving the other half empty.
With the help of a spatula, fold the empty half over the other so that the ingredients are trapped inside. It should resemble a half-moon. Cook for a few more minutes. If you want your omelette well-cooked, you can flip it over with the help of a plate and cook it for a few minutes on both sides.
When the cheese has begun to melt, remove the omelette from the pan and serve it immediately.
Notes and Tips
For those who don't know, ham is a type of cooked cold cut, derived from pork. If you don't like it, or if it's not available in your country, you can substitute it with another type of meat, such as shredded chicken.
Latest posts by Cocina Casera English
(see all)
What to eat today? Search by ingredient or recipes