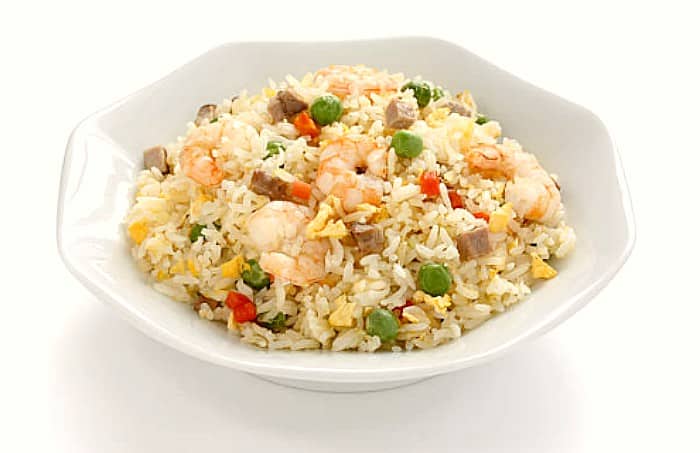 28 m
Calories: 160
Easy
2 people
Prepare an easy and delicious fried rice! With its bits of egg, shrimp, and peas. Did you know that it's possible fried rice was cooked 1,300 years ago? It appears to have originated in the Jiangsu region, and today it remains one of the traditional dishes of Chinese cuisine. If you like trying rice recipes, on this website we'll tell you how to prepare Chinese-style fried rice and a trick to make it fluffier.
History of fried rice
It's not exactly known when the recipe originated, but experts know that rice was already being cultivated in China millennia ago, between 8,200 and 13,500 years ago. However, the oldest record of fried rice dates back to the Sui Dynasty (589-618).
Centuries later, in the Middle Ages, the technique of frying spread throughout China in the 14th century. It is believed that this recipe emerged to make use of leftover cooked rice. Instead of discarding them, they would fry them as the high temperatures of frying killed off the microorganisms and they could eat it. In China, rice continues to be a staple food that they eat daily in some of their main meals.
Do you like the rice from Chinese restaurants? It usually turns out dry and firm, sometimes achieving that point at home is difficult. One trick to get better results is to use rice for oriental dishes like Thai rice, which has less starch than conventional rice. However, if you use common rice, I'll tell you a trick in the development of the recipe that may be useful.
Ingredients for Fried Rice for 2 people
Rice - 300 gr
Frozen peas - 150 gr
Peeled shrimps - 180 gr
Garlic cloves - 2 units
Red pepper - Half unit
Eggs - 2 units
Soy - 15 ml
Sunflower oil - 60 ml
Water - 600 ml
How to make the recipe Fried Rice
We start by washing the rice in cold water so that it loses starch and becomes looser. When we see that the water is already clean, we set the rice aside. Now we put a pot on the fire with 600 ml. of water and when it boils, we add the rice and let it cook over medium heat for 15 minutes. When this time passes, we cover it and let it settle for 4 more minutes. We set it aside.
We put a pan on the fire and pour a splash of sunflower oil. When it heats up, we throw in the two unpeeled garlic cloves, cut in half. Then we add half a red pepper, previously cut very finely, and let everything fry. When they change color, we remove the garlic cloves and incorporate the shrimp. These have to be well dried, with kitchen paper, and cut into small pieces. We sauté for a couple of minutes and remove everything to use later.
In a bowl, we put the two eggs and beat them with the help of a fork. In the same pan we used before, we pour another splash of sunflower oil and add the beaten eggs with a splash of soy sauce. We scramble, stirring. We don't need a perfect omelette, the eggs just need to be well set as we are going to cut them into small pieces later. We remove and set it aside.
Again in the same pan, we add another splash of sunflower oil. We add the rice and the peas, and sauté everything moving the pan. We add a tablespoon of soy sauce and finally incorporate the shrimp with the pepper and the omelette cut into small pieces. We move and mix all the ingredients properly.
Notes and Tips
You can add bits of ham or chicken breast to this rice, if you are interested you can also check out this chicken rice recipe.
Latest posts by Cocina Casera English
(see all)
What to eat today? Search by ingredient or recipes