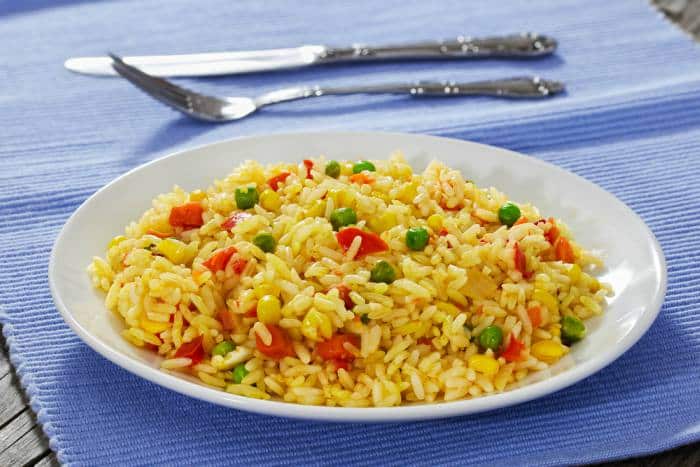 25 m
Calories: 350
Easy
4 people
Have you tried garden vegetable rice? It's very easy to prepare and suitable for vegan diets. It only contains vegetables but it's delicious! If you enjoy rice recipes, this rice is perfect to have alone or as a side dish for meat or fish. On this website, we show you step by step.
What does 'garden-style' mean?
This term derives from the French 'jardinier' or gardener, and applies to different recipes that have the common denominator of adding various vegetables, hence the term 'garden-style'. In reality, there isn't a single recipe for garden vegetable rice, or garden vegetable chicken, but rather different varieties. Some with broccoli, artichokes, or spinach, in others bell peppers or corn and peas are almost always present. In reality, you can make different garden vegetable rice depending on the vegetables you have at home.
Ingredients for Garden Vegetable Rice for 4 people
Rice - 400 g
Frozen peas - 150 g
Red bell pepper - 1 unit
Sweet corn - 3 tablespoons
Onion - 1 unit
Garlic cloves - 3 units
Sieved natural tomato - 2 tablespoons
Vegetable broth - 1 tablet
Water - 850 ml
Coloring or powdered saffron - ¼ teaspoon
Mild-flavored olive oil - 2 tablespoons
How to make the recipe Garden Vegetable Rice
In a saucepan, bring the water to boil and add the vegetable broth tablet. When it boils, turn off the heat and set it aside.
Meanwhile, chop the onion, garlic, and bell pepper. In a pot, add a little oil and sauté these ingredients for three minutes. Then add the rice without the broth and sauté for another minute.
Add two tablespoons of natural tomato, the vegetable broth, and a little coloring or ground saffron. Cook the rice over medium heat for 15 minutes.
After ten minutes of cooking, add the frozen peas directly from the bag. Wait for the remaining 5 minutes of cooking to finish.
Turn off the heat, add now the three tablespoons of corn, and cover the pot or container with a lid or a cloth. Let it settle for 5 minutes.
Notes and Tips
This recipe can be enriched more by adding pieces of chicken after sautéing the rice, at step 2. Did you like the recipe?
Latest posts by Cocina Casera English
(see all)
What to eat today? Search by ingredient or recipes