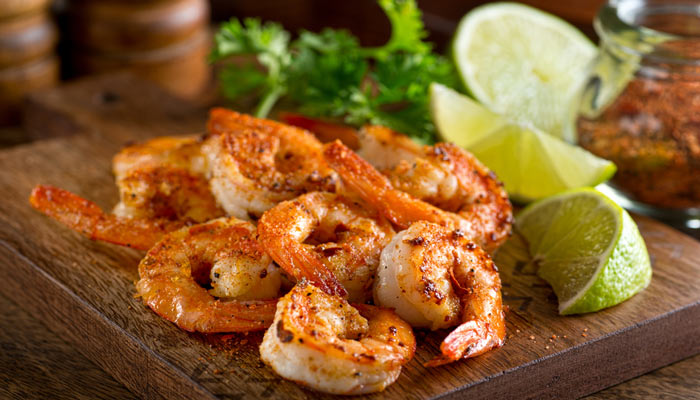 1 h
Calories: 512
Easy
6 people
In Mexican cuisine, garlic shrimp is a delicious and quick way to cook seafood, often served with salad, refried beans, and/or rice. With a tasty but not spicy flavor, it can be accompanied by any sauce. Perfect with white wine or beer.
There are other seafood recipes made with shrimp, like the traditional and spicy camarones a la diabla or the sweet and classic coastal coconut shrimp.
How to prepare garlic shrimp for 6 poeple
For the garlic shrimp
Shrimp - 800 grams
Garlic - 2 heads
Butter - 90 grams
Salt - to taste
White onion - 1/4 piece
Lemon - 1 piece
Olive oil - to taste
Ground pepper - to taste
For the sides
Lettuce - 1/2 piece
Refried beans - 1 cup
How to make the recipe Garlic Shrimp
Start by peeling the shrimp, washing them thoroughly, removing the head and veins. Drain to remove excess water.
Peel all the garlic cloves and clean them completely.
In a blender, add butter, garlic cloves, and two tablespoons of olive oil. Set it aside.
Finely chop the onion and squeeze the lemon to save the juice. Reserve everything separately.
In a low heat saucepan, pour in the butter and garlic mixture, add the onion and fry for a few minutes. Adjust the seasoning with salt and ground black pepper to taste.
When the onion has changed color, add the shrimp and mix well to integrate the shrimp with the mixture. Cook for 3 minutes.
Add the lemon juice and adjust the seasoning to your taste with salt and ground black pepper. Stir everything and cook for 5 minutes or until the shrimp is fully cooked.
Finely chop the lettuce and heat the refried beans.
Serve the shrimp with a side of refried beans and lettuce.
Notes and Tips
You can also make garlic shrimp with the shell and head. To add a spicy touch, use 1 teaspoon of red chili powder.
Latest posts by Cocina Casera English
(see all)
What to eat today? Search by ingredient or recipes