Grilled Wild Asparagus Recipe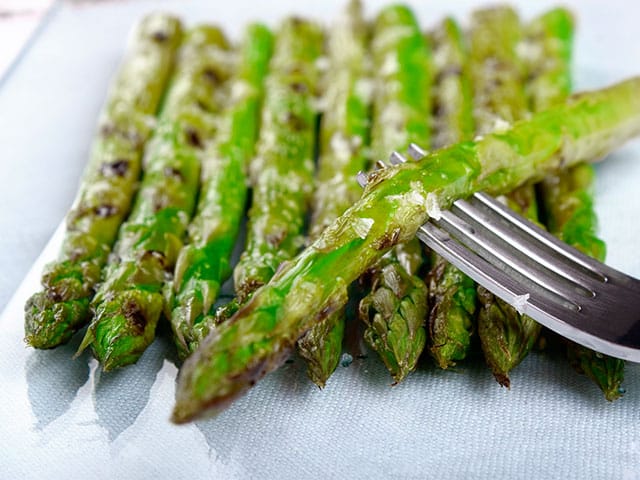 20 m
Calories: 21
Easy
4 people
Today we are going to learn how to prepare Grilled Green Asparagus. It is a plant that can be found spontaneously and wild in the forests of the Mediterranean basin. It's more refined variant can also be cultivated in large areas with a less aggressive taste, since the wild one is somewhat bitter.
I advise you to accompany the grilled green asparagus with some delicious grilled Cardoon Mushrooms, or also with some Stuffed Champignon Mushrooms with Serrano Ham. By following these simple steps, you will prepare a delicious, healthy, and very nutritious dish due to its high fiber content.
Ingredients for Grilled Wild Asparagus Recipe for 4 people
2 bunches of green asparagus
A drizzle of olive oil
Coarse salt
How to make the recipe Grilled Wild Asparagus Recipe
We wash the asparagus with plenty of water to remove any impurities, then we take each one and cut off its back part of the stem, which is whitened and harder than the rest, and discard it.
Meanwhile, we heat up the grill and pour a drizzle of oil and a handful of coarse salt on it.
When the oil is hot, we place all the asparagus on the grill surface.
We let them cook for about 5 minutes, then we turn them over to finish cooking on their entire base to make sure that none of them are left raw.
We leave them in this position for approximately another 5 minutes, a time that we will prolong according to the diameter of these asparagus since, as it is obvious, the thicker ones will take longer to cook and vice versa. At this step, what I do is to press them a little with a small wooden spatula, so that they finish expelling the moisture that remains, especially on the back part. Once we see that they are starting to soften, we will remove them from the grill to be served.
Notes and Tips
A trick when cutting the stem of the green asparagus at the optimal spot is, as I have indicated, to cut the hardest part of the stem by eye, or by taking the asparagus by each end, and gently bending it until it breaks on its own at the softest part. This part will be the limit between the toughest part of the plant and the tender part.
Latest posts by Jose Balandin
(see all)
What to eat today? Search by ingredient or recipes