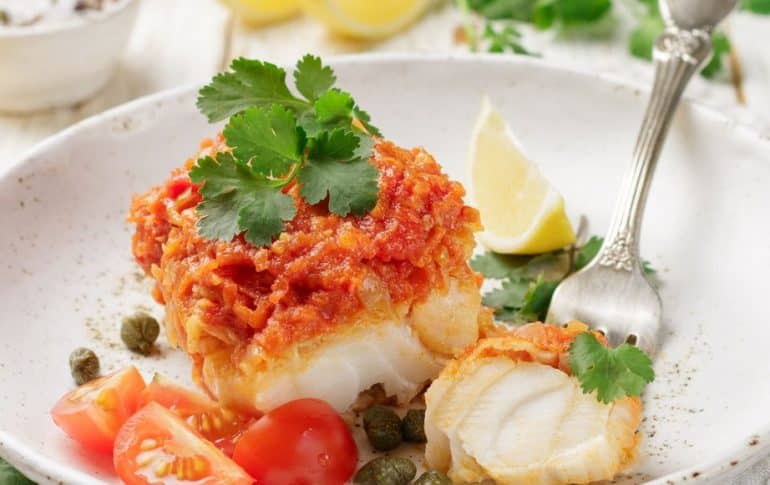 45 m
Calories: 150
Easy
2 people
Do you know how the delicious recipe for Hake à la Riojana came about? Today, we invite you to immerse yourself in the history of this exquisite dish and learn some key tips for preparing it in the best way. Not only will you delight your palate, but you will also immerse yourself in the rich culinary culture of La Rioja, a region of Spain famous for its vineyards and gastronomy.
Hake à la Riojana is a dish that combines the softness and delicacy of fish with the intensity and flavor of vegetables and broth, offering a unique culinary experience. Its origins date back to times when fishermen and farmers in La Rioja used to exchange products, which allowed the fusion of typical ingredients of the region, such as peppers and wine, with fish from nearby coasts.
Now that you know the history of Hake à la Riojana, you are ready to embark on a culinary adventure and delight your loved ones with this exquisite dish!
Ingredients for Hake à la Riojana for 2 people
2 hake loins. Approximately 150-200 g each.
1 medium onion
1 green pepper
1 red pepper
2 cloves of garlic
1 ripe tomato
100 ml of white wine
200 ml of fish stock
2 medium potatoes
Extra virgin olive oil
Salt and pepper to taste
1 teaspoon of sweet paprika
Fresh parsley for garnish.
How to make the recipe Hake à la Riojana
We start by preparing all the ingredients. Peel and finely chop the onion, peppers, and garlic. Wash and cut the tomato into small cubes. Peel the potatoes and cut them into thin slices.
In a large pan with enough extra virgin olive oil, we are going to sauté the onion, peppers, and garlic over medium heat for about 5-7 minutes, stirring occasionally to prevent sticking
Next, we add the chopped tomato to the pan and let it cook for another 5 minutes, until it is tender and has mixed well with the vegetables.
We add the teaspoon of sweet paprika to the sauté, mix well and pour in the white wine. We let it cook for a few minutes until the alcohol has evaporated.
Now, we incorporate the slices of potato into the pan and mix carefully so that they are well impregnated with the sauté. We add the fish stock, salt and pepper to taste, and cook over medium heat for about 15-20 minutes, or until the potatoes are almost cooked.
Meanwhile, we season the hake loins on both sides. Once the potatoes are almost ready, we place the hake loins on top of the stew, with the skin side up. We cook for 5-7 minutes, or until the fish is cooked and flakes easily with a fork.
We serve the Hake à la Riojana hot, accompanied by the potatoes and vegetables. We can sprinkle some chopped fresh parsley on top to give it an extra touch of color and flavor.
Notes and Tips
Dry the hake properly: Before cooking the fish, dry it carefully with kitchen paper to remove excess of moisture. This will prevent it from crumbling during cooking and improve its texture.
Slow fire sauté: Cook the vegetables over low heat so that they soften and release their flavors without burning. A good sauté is the basis of the flavor of this dish, so take the time to do it correctly.
Use a wide, thick-bottomed casserole: For a uniform cooking of the potatoes and the hake, use a wide, thick-bottomed casserole.This will allow the broth to distribute evenly and prevent the ingredients from sticking.
Uniform cut of potatoes: Cut the potatoes into thin, equally sized slices to ensure even cooking. This way, you will avoid some being raw while others are overcooked.
Reserve the parsley: If you decide to add fresh parsley as a dressing, add it just before serving the dish. This way, it will maintain its freshness and add an extra touch of color and flavor.
Taste the broth: Before adding the fish and potatoes, taste the broth and adjust the salt and pepper to your liking. Remember that you can add more salt, but you can't take it away, so add it little by little.
Latest posts by Cocina Casera English
(see all)
What to eat today? Search by ingredient or recipes