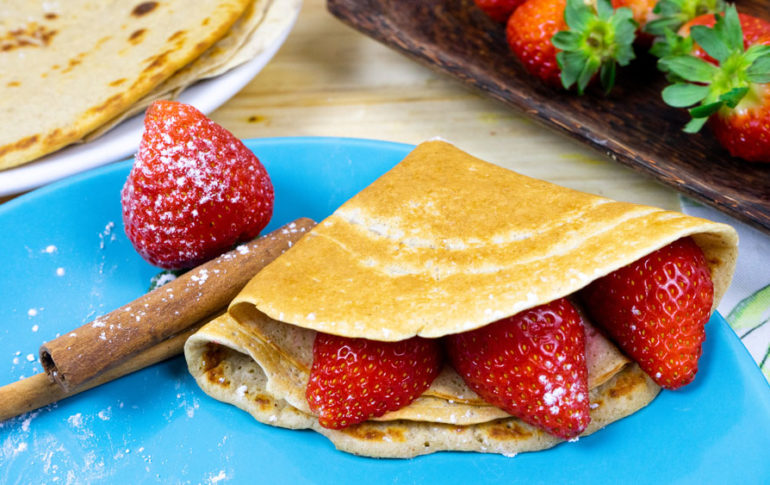 20 m
Calories: 120
Easy
2 people
Hello Foodies! What would you say if I told you that these crepes are made with 100% healthy ingredients? And that, furthermore, you're going to make them in less than 20 minutes and they're delicious. Well, that's what I'm saying, let's get to the recipe. We're going to prepare Healthy Oat Flour Crepes.
Why oat? Because of its numerous properties, and also, we've chosen a whole oat flour to steer clear of industrial flours. Pay close attention because we're going to share a trick in case you drop a piece of eggshell into the mix like I sometimes do.
On this website, we always advocate for healthy eating. What better way to indulge ourselves with a dessert that's as healthy as possible, made by yourself. That's why we recommend you check out our previous recipe, some delicious Oat Cookies without white sugar.
Ingredients for Healthy Oat Flour Crepes for 2 people
For the crepes:
Egg whites - 2 pieces
Whole oat flour - 1 cup
Vegetable milk - 1 cup or 1 and 1/4 cup (you can use soy, oat, almond, or whichever you prefer)
Cinnamon powder - to taste
Olive oil - a bit (or coconut oil, or even margarine, whichever you prefer)
For the filling:
Strawberries - to taste (you can choose any fruit you like)
How to make the recipe Healthy Oat Flour Crepes
First, separate the egg whites. Carefully open the egg in half and transfer the yolk back and forth, letting the white fall into the mixing bowl.
Here's the trick: if, like me, you drop a piece of eggshell, use a piece of the eggshell itself to easily retrieve it. Simple, right? Let's proceed.
Next, add the milk, cinnamon, and finally, the flour. Add the flour gradually, whisking to prevent lumps.
You can use a mixer, but hand whisking is more than enough. Whisk energetically; the thinner the batter, the better for our crepes.
Heat a wide pan, add a bit of oil or butter or margarine. Once hot, pour in some of the batter.
Spread the mix evenly and keep an eye on it to prevent the bottom side from burning.
A good way of knowing that the bottom side is being properly cooked is when the top changes color and small bubbles appear. Then, you can flip the crepe. Cook briefly on the other side and transfer to the plate where the rest of the crepes are.
Repeat until all the batter is used. We made 4 or 5 crepes with this. If you use a smaller pan, you'll get more crepes.
To decorate and fill our crepe, we used strawberries, and then you can add some honey or any natural syrup. The result, as you can see, is incredibly tasty.
Notes and Tips
Remember, we have a free healthy breakfast course available on our website under the 'courses' section.
If you liked it, support us with your like and share the video with a friend, they'll surely appreciate this healthy treat. And subscribe to the Home Cooking channel if it's your first time visiting, so you won't miss any of our videos we post every day of the week.
And remember, making it yourself is healthier. One more thing, we'd like your help in choosing our next recipe. Please leave a comment with your favorite dish and we'll add it to our list for future videos. Thank you very much!
And don't miss tomorrow's recipe; we have special Halloween dishes: Sausage Mummies and Pizza Mummies. Goodbye Foodies!
Latest posts by Cocina Casera English
(see all)
What to eat today? Search by ingredient or recipes