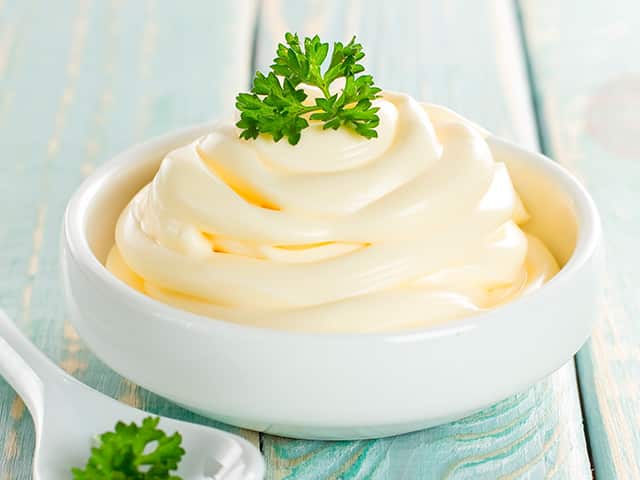 15 m
Calories: 88
Easy
4 people
Knowing how to make your own homemade mayonnaise is a skill you'll use throughout your life. You can accompany this sauce with an endless number of dishes without having to resort to store-bought sauce and having full control over the ingredients. Some examples of dishes you can prepare with this recipe are vegetable sandwiches or deviled eggs with tuna and mayonnaise.
Or even make one of the most classic tapas in Spanish cuisine, none other than potatoes with alioli sauce, whose base, mayonnaise, you can make at home with this recipe, so success is assured.
Ingredients for Homemade Mayonnaise for 4 people
Egg - 1 unit
Salt - 1 pinch
Lemon juice - from half a lemon
Extra virgin olive oil - According to desired quantity of mayonnaise
How to make the recipe Homemade Mayonnaise
Pour the raw egg, oil, squeezed lemon and a handful of salt into the bowl.
Set the blender to a medium speed, in this case speed 4, and beat slowly applying oil to the mixture until we get the desired amount
Since I understand that this process is a bit difficult to explain through photographs, I have left you a video explaining the steps where I think it will be understood much better.
And you know, if you have any doubts about this article or another, leave a comment and I will answer you as soon as possible.
Once the mayonnaise is made, all we need to do is mix it with the already cooked and diced ingredients to each one's taste. As you can see, a simple recipe and highly recommended for the summer. Greetings Foodies!
Notes and Tips
As you can see, making your own mayonnaise sauce is very easy, a simple recipe with which you can accompany your usual dishes without needing to buy mayonnaise.
Here is another way to make the recipe for homemade mayonnaise very easy.
Latest posts by Cocina Casera English
(see all)
What to eat today? Search by ingredient or recipes