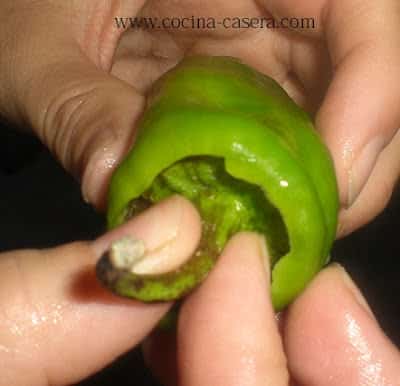 6 m
Calories: 31
Easy
1 person
Discover this simple technique that will save a lot of time for beginners in the kitchen or those who are unaware of this way to clean peppers. As you will see, it's super simple, just make sure to clean it thoroughly, especially the seeds inside, best done under a tap with plenty of water.
This will serve you for all those dishes that require pepper as an ingredient, whether they are sauté where you need to clean and chop them, or in some stew, or even to prepare your own stuffed peppers in the oven. I hope you find it useful!
And if you want to learn more, we recommend our video so that you can learn how to clean a squid or flying squid.
Ingredients for How to Clean a Pepper for 1 person
How to make the recipe How to Clean a Pepper
Wash the pepper under the tap. Plunge the head until it breaks making a slight pressure on it pushing towards the body of the pepper.
Pull it outwards, removing it completely from the body, discard it.
Open the body of the pepper and clean under the tap any remaining seeds.
Notes and Tips
In this simple and in three steps way we have seen how a pepper is cleaned, it will be very useful when preparing sauces as I said at the beginning of the article
Latest posts by Cocina Casera English
(see all)
What to eat today? Search by ingredient or recipes