How to Whip Egg Whites to Soft Peaks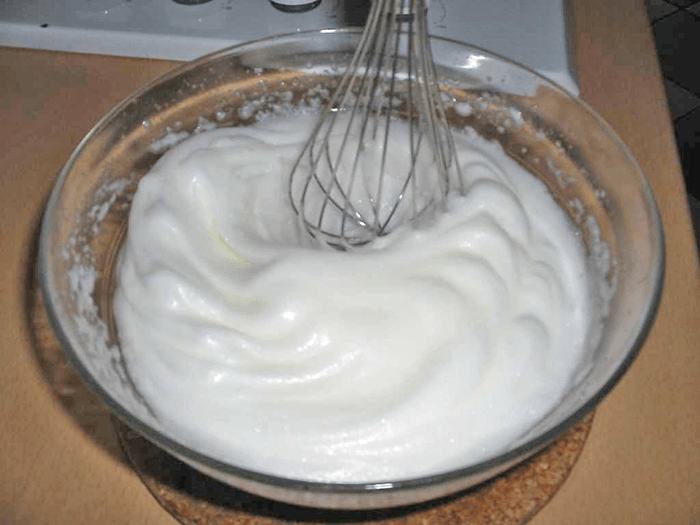 6 m
Calories: 54
Easy
1 person
When preparing various recipes, especially desserts, we're often instructed to whip egg whites until they reach soft peaks. What does this mean?
To whip egg whites, simply make a circular motion from the bottom to the top, incorporating as much air as possible. Avoid horizontal movements, as they won't let in as much air.
To achieve perfectly fluffy egg whites, whip them with a pinch of salt.
This is the traditional method. You can also use electric beaters, making the process much easier and less labor-intensive.
With electric beaters, slightly tilt the bowl to facilitate beater movement and air entry. This technique takes only a few minutes.
Ingredients for How to Whip Egg Whites to Soft Peaks for 1 person
Eggs - 4 units
Salt - 1 Pinch
How to make the recipe How to Whip Egg Whites to Soft Peaks
Separate the egg whites from the yolks, placing the whites in a large bowl where you will have to whip them.
Add a pinch of salt (this helps create a stable foam).
With the electric beaters, start at a low speed and gradually increase the speed as the egg whites gain volume.
You'll know they're properly whipped when peaks form, and you can turn the bowl upside down without the whipped egg whites falling out.
Notes and Tips
Preparing egg whites to soft peaks might seem like a simple task, but it requires some technique and patience. Here are some tips to make sure they turn out perfect:
Ensure that the utensils you are going to use are completely clean and dry. Grease and water can hinder the whipping of egg whites.
Egg whites whip better when they are at room temperature, so take the eggs out of the fridge a while before starting.
If you are going to whip the egg whites by hand, I recommend that you make enveloping and constant movements. And patience, because it may take a while.
Don't overwhip. If you whip too much, the egg whites can curdle and lose all the air we have incorporated.
If you follow all these tips, you will achieve perfect soft peak egg whites. Why not use them to prepare a delicious meringue, a fluffy cake, or a light mousse? The possibilities are endless.
We hope you are encouraged to try this technique and share your results with us. Don't forget to mention us on your social networks and continue searching for similar recipes in our search engine or in the related recipes that we leave you below. We love to see how our recipes turn out for you!
Latest posts by Cocina Casera English
(see all)
What to eat today? Search by ingredient or recipes