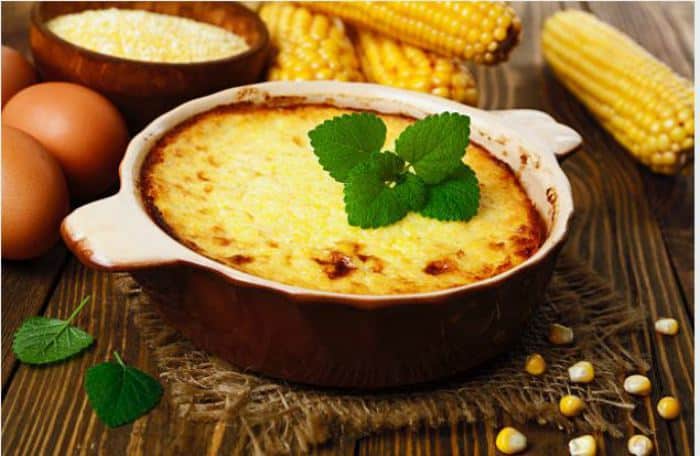 40 m
Calories: 327
Easy
4 people
The corn and cheese cake or humita cake is a traditional recipe from countries such as Chile, Peru, Bolivia, Ecuador, and Argentina. "Choclo" is the Quechua term for maize. This cake combines eggs, cheese, and a sautéed onion. If you like vegetable recipes, on this website we'll guide you through this Latin American delicacy step by step.
Since when has the corn cake been prepared?
"Choclo" is maize and "humita" is the name of a Quechua recipe whose main ingredient is maize. A dough is made with this cereal. The history of this cake has several hypotheses:
One dates back to the 17th century, stating this recipe was served by the Dominican monks. According to Peruvian historian Ricardo Palma, in 1608, the Dominicans held a banquet for other religious congregations where they served stuffed turkey, lamb stew, potato locro, theological soup, and corn cake.
The other hypothesis places this cake in the century as a humble recipe that was prepared in rural areas. Later, with the migration to the cities, the recipe spread. There is not a single recipe, for example in Chile it is prepared with a corn cream over chicken, or boiled eggs. Another version adds cheese and other ingredients such as olives or minced meat are often added.
Ingredients for Humita Cake for 4 people
Maize or choclo –400 g
Onion – 1 unit
Garlic clove – 2 units
Cornstarch – 2 tablespoons
Green pepper –½ unit
Eggs – 3 units
Cream cheese –2 tablespoons
Grated cheese- 80 g
Sweet paprika – ½ teaspoon
Oregano - to taste
Salt –to taste
How to make the recipe Humita Cake
Place the corn in a container and grind until a homogeneous cream is achieved.
Grind the onion, garlic, and green pepper. Prepare a frying pan with olive oil and sauté these ingredients for about two minutes. Mix with the corn.
Beat the eggs and add the paprika, oregano, cream cheese, and cornstarch. Work these ingredients until a homogeneous cream is achieved.
Combine this mixture with the corn and sauté. Join everything. Line a mold with baking paper.
Pour the corn cake mixture into the mold. Bake for 30 minutes at 356 degrees.
Notes and Tips
Did you enjoy this recipe? Don't forget to check our other meat recipes!
Latest posts by Cocina Casera English
(see all)
What to eat today? Search by ingredient or recipes