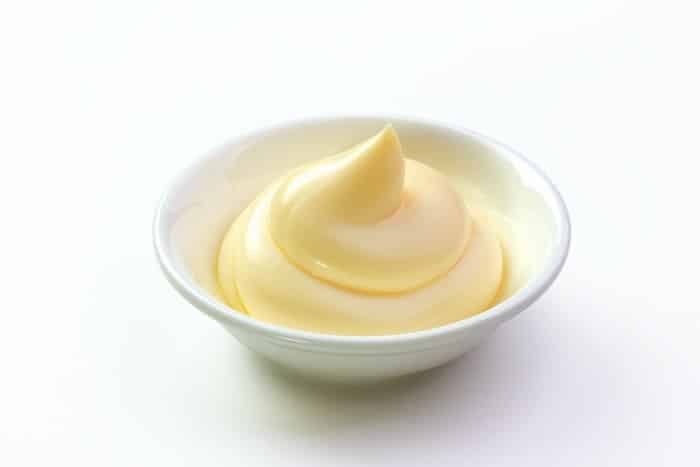 10 m
Calories: 640
Easy
6 people
Japanese mayonnaise (specifically from the Kewpie brand) is one of the most popular sauces in Japan, alongside soy and teriyaki. It's a staple in every household and is combined with all kinds of recipes. This sauce has a special taste in part because monosodium glutamate is often added, which is a flavor enhancer and activates the fifth taste, umami, which in Japanese translates to 'delicious'. If you like trying different sauce recipes,  on this website we tell you how to prepare this mayonnaise without needing to add glutamate.
Differences between Japanese mayonnaise and traditional mayonnaise
The most famous brand of Japanese mayonnaise, Kewpie, was founded no less than in 1925 and its logo of a baby with open arms became very popular. At first glance, Japanese mayonnaise has a pale yellow color slightly more intense than the color of conventional mayonnaise. This leads us to the first of the differences:
It's made only with egg yolks, this gives it a more intense color but its flavor is more subtle and smooth.
Soy, canola or sunflower oil is used, not olive oil as is customary in Spain.
The vinegar used is rice or apple vinegar, never white vinegar. -Half a teaspoon of monosodium glutamate is usually added (you can find it in large stores), although certain people don't tolerate this compound well.
It incorporates a bit of sugar. It's prepared in a similar way to our mayonnaise, but its flavor is slightly sweeter and its texture is a bit denser.
Ingredients for Japanese Mayonnaise for 6 people
Soy or sunflower oil – 250 ml
Egg yolks – 2 units
Rice vinegar – 1 tablespoon
Lemon juice – 2 tablespoons
Salt – ½ teaspoon
Sugar- a pinch
How to make the recipe Japanese Mayonnaise
Separate the yolks from the whites carefully so that nothing from the white falls into the container, before beating with the mixer emulsify the yolks by beating with a fork for a few seconds. Then pour into a mixer-safe container along with two tablespoons of oil. Beat at low speed for about 50 seconds without moving the mixer.
After this time you can add a bit more oil and vinegar, lemon and sugar. We beat again for about 30 seconds and continue adding the remaining oil little by little.
Continue beating for about 50 more seconds and you will see how the mayonnaise is thickening. It should be consumed soon, don't leave it in the fridge for more than a day since it doesn't have preservatives.
Notes and Tips
A bit of strong mustard can also be added to the Japanese mayonnaise, about half a teaspoon, they also add dashi powder, but since this ingredient is not easy to find, you can prepare it without this ingredient.
Did you like this recipe? If you think so, you can see other delicious sauce recipes like tomato sauce for pasta.
Latest posts by Cocina Casera English
(see all)
What to eat today? Search by ingredient or recipes