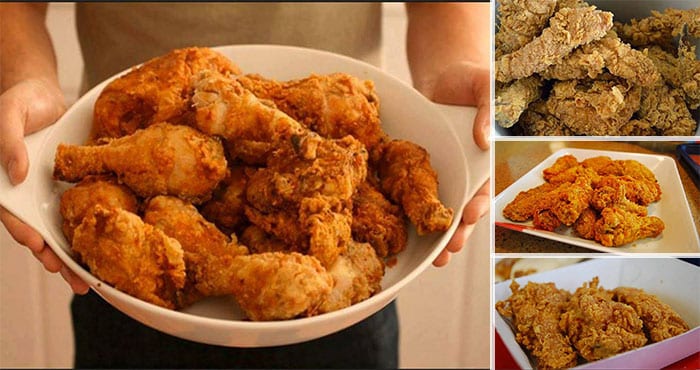 2 hours y 15 minutes
Calories: 242
Easy
4 people
If you've tried the chicken from Kentucky Fried Chicken, you'll have wondered how to recreate it at home. After all, it has such a special flavor and texture that it's irresistible. That's why we're going to explain how to make chicken wings in the same style as KFC. Undoubtedly, an irresistible chicken!
If you're a chicken lover, you shouldn't miss another of our favorite recipes, oven-baked chicken wings, without a drop of oil. A healthier and balanced way to prepare chicken without using a deep fryer.
Ingredients for KFC Style Chicken Wings for 4 people
Chicken wings - 12 units
Flour - 800 grams
Sweet paprika - 4 tablespoons
Powdered curry - 4 tablespoons
Thyme - 2 tablespoons
Oregano - 2 tablespoons
Tarragon - 2 tablespoons
Pepper - 2 tablespoons
Salt - A pinch
How to make the recipe KFC Style Chicken Wings
The first step to start preparing our chicken wings in the purest Kentucky fried chicken style is to mix the following ingredients in a bowl: flour, paprika, curry, thyme, oregano, tarragon, pepper, and salt. We mix and stir all this efficiently with the aim of getting everything correctly mixed.
Once we have the sauce well stirred, we should separate it into two equal parts in bowls. One of these parts will serve to marinate and the other for breading. That's why, in one of the bowls we will add a little milk and we will add water while we continue stirring. The goal is to get a liquid mixture, but we should not lose all the thickness of the mixture. It is in this bowl where we will marinate the wings that we have previously cut into two parts, we have separated the thigh and the wing.
We need to leave the chicken pieces in this mixture for about 3 hours, in case of being in a hurry, we could reduce that time to 1 hour.
When that time passes, it's time to start with the most complicated part to make these wings correctly. What we should do is heat the oil to full power. Then what we need to do is, take the marinated wings one by one, pass them through the flour mixture that we had made earlier, and then put them in the oil.
The secret to making them like KFC's lies in the oil. Indeed, we need the oil to be hot enough to create the typical KFC crust, but we must be careful, as if it's too hot there is a risk that they will remain raw. The trick is to put them in very hot oil for just one minute and then lower it and keep them for 8 minutes for them to be cooked properly, and finally for two minutes turn up the heat to the max.
Finally, we remove the wings from the oil and pass them through absorbent paper, to eliminate the excess oil.
Notes and Tips
Another trick that can be used is to put them in the oven after frying them, but this technique can soften the crust that we want to achieve. Credits-Biswarup Ganguly.
Latest posts by Cocina Casera English
(see all)
What to eat today? Search by ingredient or recipes