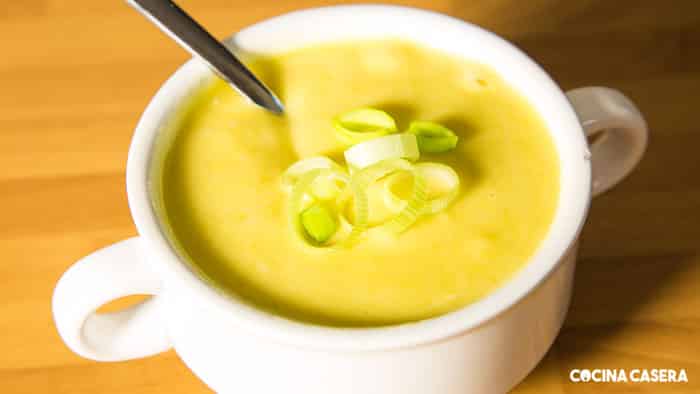 30 m
Calories: 24
Easy
2 people
Indulge in a warming leek cream soup this winter; low in fats and sugars, perfect for those on a diet. Discover this easy, delicious, and super healthy recipe!
On our website, you can learn how to make other delicious soups, such as our zucchini cream or our corn cream.
Ingredients for Leek Cream for 2 people
Leeks - 2 units
Large potato - 1 unit
Large carrot - 1 unit
Green onion - half unit
Garlic - 1 clove
Olive oil - 2 tablespoons
Optional: Cream - a splash
How to make the recipe Leek Cream
Start by chopping all the ingredients. The size doesn't matter as long as they're relatively uniform for even cooking. Remove the leaves from the leeks and slice them.
Peel the potato and cut it into one-inch squares. Do the same with the carrot: peel and slice it.
Chop the half green onion into large squares.
Sauté everything together in a pot with a splash of olive oil and add the garlic too. Let them gain color, then add a glass of water. Let all the ingredients cook, taste, and adjust seasoning.
Blend with a hand mixer until smooth. If necessary, strain through a sieve or food mill.
Serve in a bowl and add a splash of cream to give it shine and creaminess.
Notes and Tips
We encourage you to make your own variations of this recipe, swapping the potato for sweet potato or pumpkin, resulting in a uniquely flavored soup with vibrant colors. Did you enjoy it? If so, tell us how you'd improve it! ;)
Latest posts by Cocina Casera English
(see all)
What to eat today? Search by ingredient or recipes