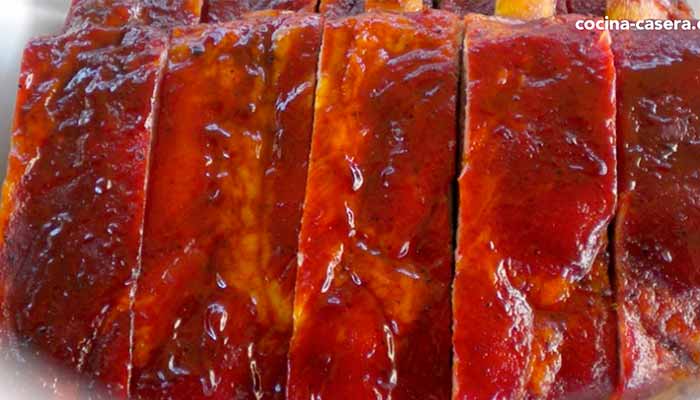 40 m
Calories: 266
Easy
2 people
Baked marinated ribs or a meat marinade is a dish that cannot be missing in your personal recipe book. To show you how simple it is and that you will achieve amazing success, we present this recipe. You will see how surprised and how easy this rib marinade is. And if you're left wanting more, here you can see rib recipes to accompany your marinade.
For marinade lovers, don't miss other recipes that will serve to give a different touch to different types of dishes, both recipes with video such as marinade for chicken and marinade for fish.
Ingredients for Marinated Ribs for 2 people
Pork Ribs – 1 unit
Sweet paprika 2.5 – tablespoons
Spicy paprika – 0.5 – tablespoons
Dried oregano – 2 tablespoons
Finely chopped garlic – 4 cloves
Salt – 0.25 – tablespoons
Anise – 0.25 tablespoons
Powdered cumin – 0.25 tablespoons
Olive oil – 2.5 tablespoons
Water – 5 – tablespoons
White Wine – 3 tablespoons
Lemon juice – 1 unit
How to make the recipe Marinated Ribs
We mix all the ingredients except the ribs in a bowl to prepare the marinade.
We introduce the ribs and smother them well in the marinade, we leave them marinating overnight or for a day.
We preheat the oven to 356º and put the ribs in a baking dish for 45 minutes with the meat down and the inside of the bones up.
We turn it over and sprinkle with the juices that are being generated and leave it with the meat up for about 30 more minutes. We serve it hot.
Notes and Tips
If possible, we can roast some potatoes at the same time as the ribs, calculating to finish at the same time.
This recipe would also work with beef ribs or even chicken wings.
Latest posts by Cocina Casera English
(see all)
What to eat today? Search by ingredient or recipes