Mashed Potatoes without Milk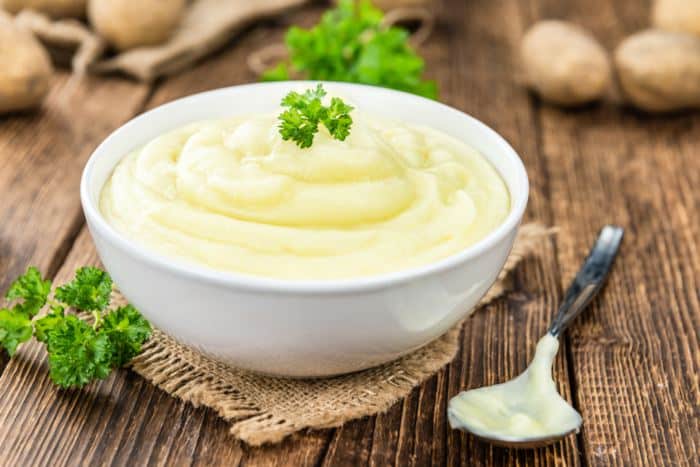 25 m
Calories: 110
Easy
4 people
A super easy recipe for dairy-free mashed potatoes, ideal for people with lactose intolerance or those who can't tolerate milk. It's creamy and has a gentle flavor. If you enjoy puree recipes, On this website, we share step by step this recipe.
What nutrients do potatoes provide?
Potatoes are native to South America, spontaneously sprouting in the Andean region. Researchers believe their cultivation dates back between 4,000 and 7,000 years. Unlike other foods, potatoes adapt well to different types of soil, even at various altitudes, making them a staple food for many countries around the world.
Whether boiled, fried, baked, or roasted, potatoes have an undeserved bad reputation as a high-calorie food, but a boiled or baked potato only has 73 calories per 100 grams. It's the fried potatoes that multiply the calories, with about 310 per 100 grams. Potatoes are rich in carbohydrates, so they provide energy, have very little fat, only 0.11 grams. They provide vitamin A, 0.87 grams and vitamin C, 17 milligrams and also contain vitamin B3 1.70 milligrams. They also contain a small percentage of iron 6.40 milligrams and about 2 grams of fiber.
Potatoes are easily digested due to their high carbohydrate content. They are perfect for including in the diet of babies, children, or people with digestive problems. Did you know that potatoes have been used for centuries as a home remedy to reduce inflammation or to relieve the pain of burns? This is because they contain vitamin C and other beneficial nutrients for the skin.
Ingredients for Mashed Potatoes without Milk for 4 people
Potatoes - 5 units
Vegetable broth - 250 ml
Lemon juice - 2 teaspoons
Extra virgin olive oil - a drizzle
Salt - to taste
Pepper - to taste
How to make the recipe Mashed Potatoes without Milk
We wash the potatoes well, if necessary with a soft scrubber, to remove the dirt that is stuck. We prepare the pressure cooker (I'll also tell you the step by step in a conventional pot).
Put the unpeeled potatoes in the pressure cooker and add water until it is a little above. Program the pot for 15 minutes.
Once we can open the pot we take out the potatoes and let them cool a little. With a potato peeler, we remove the skin, now it's easier.
Put the potatoes in the blender along with half a glass of vegetable broth (also very tasty with chicken broth). Blend until you achieve the desired texture.
If you want it less dense add a little more broth.
When serving, add a little olive oil to each dish, salt, and pepper. Seasoning at the end we can adjust better, if the puree is for children it should barely carry salt or pepper.
Sprinkle a little chopped parsley which also adds an extra dose of vitamin C.
Notes and Tips
To prepare the recipe in a conventional pot: put the potatoes with skin, cover with water. Cook the potatoes for about 25 or 30 minutes, depending on size. Then drain and proceed as in step 2 of the previous section.
Latest posts by Cocina Casera English
(see all)
What to eat today? Search by ingredient or recipes