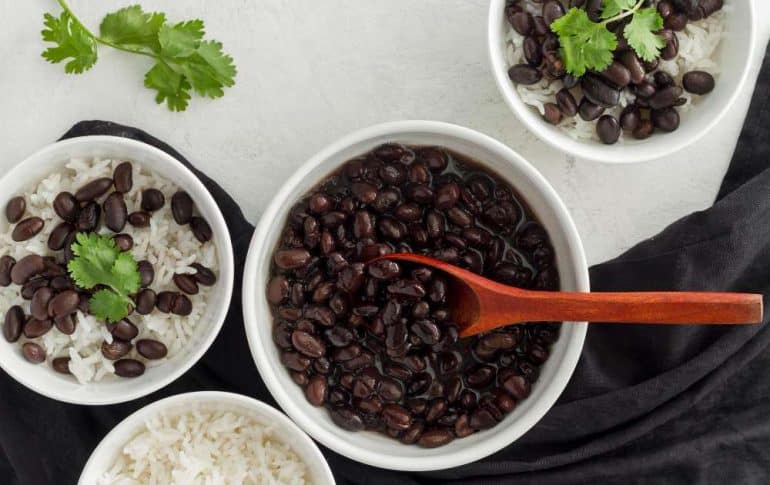 2 h
Calories: 92
Medium
2 people
Beans are a fundamental ingredient in Mexican cuisine, with a history dating back over 7,000 years in the Mesoamerica region. This humble food has been the basis of numerous civilizations' diet, and today, it remains an essential element in Mexican cooking.
Join us on this culinary journey as we show you how to prepare a delicious and authentic Mexican bean recipe that will undoubtedly impress your loved ones and delight their palates.
When preparing this dish, it's important to keep several things in mind for perfect results, so stay with us till the end of the recipe to not miss out on anything.
Throughout this recipe, we'll guide you step by step in making this delicious dish, providing useful tips and additional details to ensure your cooking experience is successful, even if you're a beginner in the culinary arts. Get ready to immerse yourself in the rich Mexican culture and delight in the flavors of this exquisite bean dish. Let's start cooking!
Ingredients for Mexican Beans for 2 people
1 cup of dry beans. Pintos, black, or bayo.
4 cups of water
1/2 white onion, finely chopped
2 cloves of garlic, chopped
1 ripe tomato, chopped
1/2 serrano or jalapeno chili, chopped. Optional, to add a spicy touch.
1 sprig of epazote. Optional.
2 tablespoons of vegetable oil or pork lard
Salt to taste
How to make the recipe Mexican Beans
The first thing we'll do is check the beans to ensure there are no stones, dirt clumps, or other debris among them. We place them in a colander and rinse them with cold water to remove any remaining dirt.
Now, let's soak the beans. We place them in a large bowl and add enough water to completely cover them. We let the beans soak for at least 6 hours or, even better, overnight. This process will soften the beans and reduce the cooking time.
Once the beans are soaked, we drain them and rinse them again with cold water.
Next, we heat the 2 tablespoons of vegetable oil or pork lard in a large pot over medium heat. We add the chopped onion and cook until it's transparent and tender, about 3-4 minutes.
We add the chopped garlic and cook for 1 more minute, stirring constantly to prevent burning.
We incorporate the soaked and drained beans into the pot, mixing them with the onion and garlic.
We pour the 4 cups of water into the pot, making sure the beans are completely covered. If necessary, we can add more water.
We bring the mixture to a boil, then reduce the heat to low and let the beans simmer. If we want to add the chopped chili and the sprig of epazote, this is the time to do it. These ingredients are optional, but they will give a more authentic and deep flavor to our beans.
We simmer the beans for about 1.5 to 2 hours, or until they are tender. It's important to check the pot occasionally and add more water if necessary to prevent the beans from drying out. While the beans are cooking, we can take the opportunity to chop the tomato. We set it aside for later.
When the beans are tender, we add the chopped tomato to the pot and cook for an additional 5 to 10 minutes, allowing the flavors to combine and the tomato to soften.
Now, it's time to season our beans. We add salt to taste and, if desired, we can adjust the spiciness by adding more chopped chili or reducing it according to our preferences.
We stir well and let the beans simmer for a few more minutes to allow the flavors to fully blend.
If we decided to use a sprig of epazote in our recipe, this is the time to remove it from the pot and discard it
Finally, we turn off the heat and let the beans rest for a few minutes before serving. This will allow the flavors to settle and the beans to reach the desired consistency.
We serve our delicious hot Mexican beans, accompanied by rice, tortillas, guacamole, or any other Mexican dish we like. We can also store the beans in an airtight container in the refrigerator for 3 to 4 days, or freeze them to enjoy later.
Notes and Tips
Slow Cook the Beans: Cooking the beans slow and steady is key to getting them tender and not breaking apart. Also, make sure there is always enough water in the pot to prevent them from drying out and burning.
Add Salt at the End: Add the salt at the end of the cooking instead of at the beginning. If you add the salt early, the beans could harden and not cook properly.
Adapt the Spiciness: If you're unsure about the spiciness level, start by adding a minimum amount of chopped chili and, as the beans cook, taste and adjust according to your personal preferences.
Personalize the Recipe: Don't hesitate to add your own touches to the recipe. You can include additional ingredients like bell pepper, carrots, zucchini, fresh cilantro or even a bit of fried bacon for extra flavor.
Serve and Accompany: Serve your hot beans alongside rice, tortillas, guacamole, or pico de gallo for a complete and authentic meal. Additionally, you can turn the beans into "refried beans" by heating them in a pan with a bit of oil and mashing them with a fork or a potato masher until they're smooth and creamy.
Latest posts by Cocina Casera English
(see all)
What to eat today? Search by ingredient or recipes