Mexican Ground Beef Burritos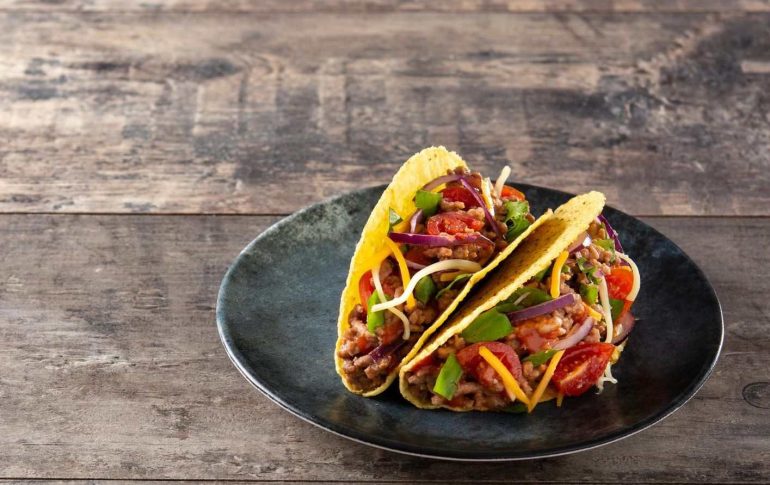 35 m
Calories: 220
Easy
2 people
Get ready to embark on a delicious culinary journey as we introduce you to the recipe for authentic Mexican Ground Beef Burritos! This traditional dish, originating from northern Mexico, is the result of the blend between Spanish and indigenous gastronomies and has become a symbol of the richness and diversity of Mexican cuisine.
Burritos are known for their versatility and taste, and while there are many variations, the recipe we offer today focuses on ground beef, alongside other typical ingredients such as refried beans, vegetables, and cheese. Over the years, burritos have become popular worldwide, and their presence in American cuisine has led to the creation of new versions, such as Tex-Mex style burritos.
Immerse yourself in the rich history and culture of Mexico while preparing these delicious burritos, and enjoy a unique culinary experience that will leave you wanting more. Join us on this gastronomic adventure and surprise your loved ones with a dish that transcends borders and delights palates around the world!
Ingredients for Mexican Ground Beef Burritos for 2 people
300 grams of minced meat. Preferably beef.
2 large wheat or corn tortillas
1/2 medium onion, finely chopped
1/2 ripe tomato, cut into small cubes
1/2 green pepper, cut into thin strips
1 clove of garlic, finely chopped
1/2 cup of refried beans
1/2 cup of grated cheese. It can be cheddar, manchego or whatever you prefer.
1/2 cup of chopped lettuce
2 tablespoons of vegetable oil
1/2 teaspoon of ground cumin
1/2 teaspoon of sweet paprika
1/4 teaspoon of chili powder. Optional, if you like spicy.
Salt and pepper to taste
How to make the recipe Mexican Ground Beef Burritos
Prepare the ingredients: We will start by washing and finely chopping the onion, tomato, green pepper, garlic, and lettuce. We will also grate the cheese and reserve all ingredients for later use.
Cook the minced meat: We will heat a large pan over medium heat and add 1 tablespoon of vegetable oil. Once hot, we will add the minced meat and cook it until it is well browned, breaking up the lumps with a spatula or wooden spoon.
Add the spices: When the meat is cooked, we will add the cumin, sweet paprika, chili powder if we decide to use it, and salt and pepper to taste. We will mix well so that the spices are integrated into the meat.
Incorporate the vegetables: Next, we will add the chopped onion, garlic, tomato, and green pepper to the pan with the meat. We will cook everything together for about 5 minutes, until the vegetables are tender.
Heat the refried beans: In a small pot or in the microwave, we will heat the refried beans over low heat for a few minutes, stirring occasionally to prevent them from sticking.
Heat the tortillas: In another large pan, we will heat 1 tablespoon of vegetable oil over medium heat. We will place one tortilla in the pan and heat it for about 30 seconds on each side until it is soft and flexible. We will repeat the process with the other tortilla.
Assemble the burritos: We will place the warm tortillas on a plate and evenly spread the refried beans in the center of each one. Then we add the rest of the ingredients and close the burritos properly for comfortable eating.
Notes and Tips
Use fresh tortillas: If possible, buy fresh tortillas at a local store or bakery specializing in Mexican products. Fresh tortillas will have a superior taste and texture to those that come packaged.
Balance of spices: Make sure to measure the spices correctly and adjust the amount of chili powder according to your tolerance for spiciness. You can always add more heat at the end of cooking if you wish, but it is hard to remove it if you go overboard.
Customize the ingredients: If you prefer, you can add other ingredients to the mix, like mushrooms, corn, jalapeños, guacamole, or homemade tomato sauce. Don't hesitate to experiment and adapt the recipe to your personal tastes.
Cook the meat and vegetables separately: If you want more precise control over the cooking of the meat and the vegetables, cook them separately and combine them at the end. This will allow you to achieve the desired texture in both ingredients.
Keep the tortillas warm: To prevent the tortillas from cooling while you assemble the burritos, wrap them in a clean kitchen towel or aluminum foil once you take them out of the pan.
Rolling method: To efficiently roll the burritos, first fold the ends towards the center and then roll the bottom edge upwards, making sure all ingredients are well wrapped. Press gently to seal the burrito.
Brown the burritos: If you want to give your burritos a crispy touch once you have assembled them, place them in a hot pan with a little oil and brown them on both sides before serving.
Latest posts by Cocina Casera English
(see all)
What to eat today? Search by ingredient or recipes