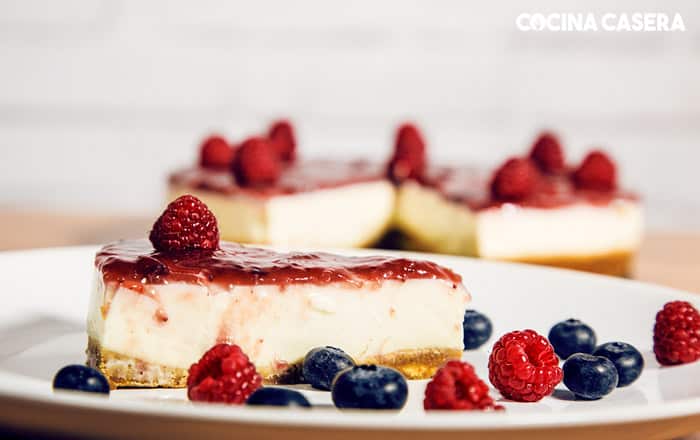 6 hours y 20 minutes
Calories: 351
Easy
8 people
We suggest a Delicious no-bake cheesecake, very similar to the blueberry cheesecake and many others you can find by searching our site! The incredible thing about this recipe is that you can achieve a magnificent result without using an oven.
Although most cheesecake recipes require baking, in this case, all we need is a saucepan and a fridge to cool our cake. You'll need to be a little patient, just a bit! to enjoy this wonderful dessert since it requires a few hours of chilling, but afterward, I assure you, it'll be all yours!
Ingredients for No-Bake Cold Cheesecake for 8 people
Digestive biscuits - 200 grams
Whipping cream - 500 milliliters
Cream cheese (like Philadelphia) - 300 grams
Butter - 80 grams
Milk - 1 cup
Red fruit jam
1 packet of powdered curd
White sugar - 150 grams
Red fruits - for decoration
How to make the recipe No-Bake Cold Cheesecake
First, crush the biscuits until they are a powder-like consistency, and mix them with the previously melted butter (1 minute in the microwave).
Then, take this mixture and place it at the base of the mold, ensuring no gaps, and as smooth and straight as possible. Allow it to chill in the fridge for at least an hour.
In a saucepan, over medium heat, mix the cheese, cream, and milk until everything is uniform. Gradually add the curd and sugar, mixing well and ensuring no lumps form.
Let it cool for a few minutes. Remove the mold from the fridge, and carefully pour in the liquid. To prevent the biscuit base from getting uneven or mixing with the liquid, you can use a spoon to pour it.
Allow it to chill in the fridge for several hours until completely firm. Spread red fruit jam over the entire surface, remove from the mold, and EAT!
Notes and Tips
Digestive biscuits, or digestives, are a type of cookie made with coarse whole wheat flour, which crumbles easily, resulting in a "cookie soil" with a coarse texture.
For this cheesecake, we used an 18-centimeter diameter mold. Ideally, it should be a mold with a removable base to make it easier to unmold the cake.
Latest posts by Cocina Casera English
(see all)
What to eat today? Search by ingredient or recipes