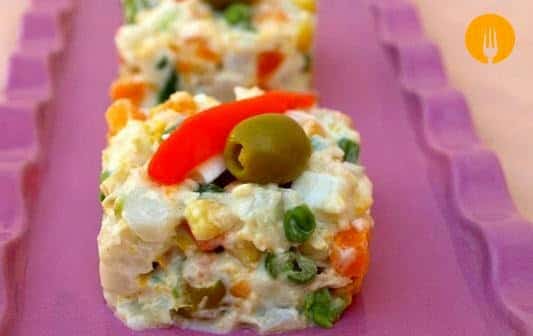 40 m
Calories: 380
Easy
4 people
The Olivier Salad is a worldwide known dish, its simple preparation and economical ingredients have made this dish widely spread throughout our geography.
There are many ways to make it, and each home includes different ingredients, the recipe we propose has been made a thousand times and honestly, it's our favorite, but as I said, it's a dish that allows many variations and you can adapt it to your own way. In my opinion, the essentials of this dish are boiled and peeled potatoes, boiled egg and of course, mayonnaise, the quality of the latter in particular will largely determine the success of your dish.
With all this, I hope you find our dish useful, a delicacy for hot summer days and DO NOT FORGET to always keep it cold in the fridge, as the mayonnaise has to be kept away from heat, especially if it's homemade. Otherwise, all that's left is to enjoy this excellent dish!
Ingredients for Olivier Salad for 4 people
5 potatoes
4 boiled eggs
3 small cans of clear tuna in oil
2 carrots
1 handful of pitted olives
virgin olive oil
Sherry vinegar
Salt
50 grams of peas
How to make the recipe Olivier Salad
Boil the potatoes, carrots, and eggs for approximately 30 minutes in salted water. Check if the potato is cooked enough by pricking with a fork, if it goes in easily it's ready.
Drain the water and leave the ingredients in a dish until they cool down.
Peel the potatoes, carrots, and boiled eggs into pieces, to each one's size and liking. Add the other ingredients, tuna, olives, peas, etc... salt and finely chopped garlic and parsley. Add oil and cider vinegar.
Now all that's left is to make the mayonnaise and mix everything, for this keep reading the next step:
Preparation of homemade mayonnaise. Obviously, if you choose bottled mayonnaise you would have the dish done and just need to mix everything, to each one's liking.
On the other hand, if you prefer the salad without mayonnaise you can add some pieces of natural tomato, it will give it a nice touch and give some more juice to the salad. Once you have the mayonnaise all that's left is to mix it with the already cooked and chopped ingredients to each one's liking. As you can see a simple recipe and highly recommended for the summer. Greetings Foodies!
Notes and Tips
This is one of those recipes that you cannot miss and that once you learn, you will shape it with your favorite ingredients.
Latest posts by Cocina Casera English
(see all)
What to eat today? Search by ingredient or recipes