Oven-Baked Marinated Ribs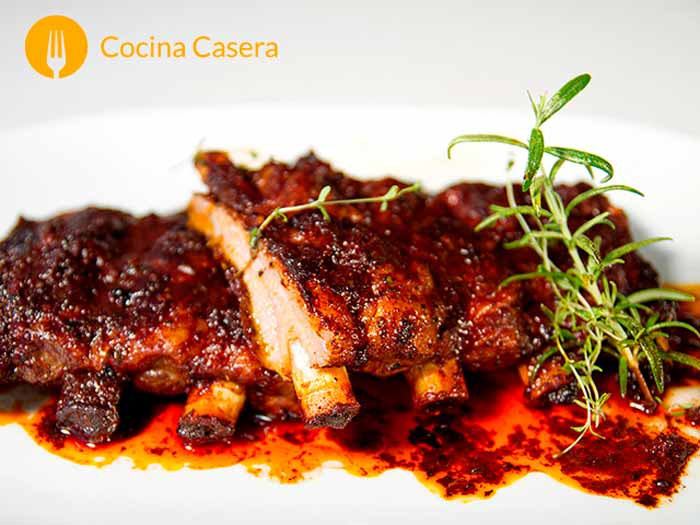 30 m
Calories: 374
2 people
This time we've combined two wonders of Spanish cuisine, the Iberian pork and paprika, to create exquisite oven-baked marinated ribs. In this case, we're using bittersweet paprika. We'll prepare a marinade to fully flavor the pork ribs so that the fat from the Iberian pork retains all the aromas and flavors of the marinade, which the oven will then return to us as a true delight and pleasure.
Ingredients for Oven-Baked Marinated Ribs for 2 people
Pork Ribs - 1 set
Bittersweet paprika - 3 tablespoons
Dried oregano - 2 tablespoons
Finely chopped garlic - 4 cloves
Salt - 0.25 tablespoons
Ground cumin - 0.25 tablespoons
Olive oil - 2.5 tablespoons
Water - 5 tablespoons
Red wine - 3 tablespoons
Lemon juice - 1 lemon
How to make the recipe Oven-Baked Marinated Ribs
In a bowl, combine all the ingredients except the ribs, mixing well to ensure no lumps remain.
Place the ribs in the bowl, ensuring they are well coated with the marinade. Cover with plastic wrap and leave for at least 2 hours, ideally overnight.
Preheat the oven to 374°F.
Place the marinated ribs on an oven tray, drizzle generously with the marinade, and place in the oven, turning them upside down, for about 45 minutes in the middle rack.
If necessary, keep moistening with white wine to prevent the marinade from burning. Turn the ribs after 45 minutes and cook for an additional 30 to 45 minutes with the meat side up. Using a spoon, baste the meat with its own sauce every 10 to 15 minutes to prevent it from drying out.
Remove from the oven, transfer to a plate or dish, and enjoy!
Notes and Tips
You can sprinkle with chopped rosemary and thyme to intensify the countryside aromas. You can also try this recipe with beef ribs or even rabbit ribs.
And if you'd like to see more recipes like this one, simply click here: Rib Recipes.
Latest posts by Cocina Casera English
(see all)
What to eat today? Search by ingredient or recipes