Oven-Baked Potatoes with Emmental Cheese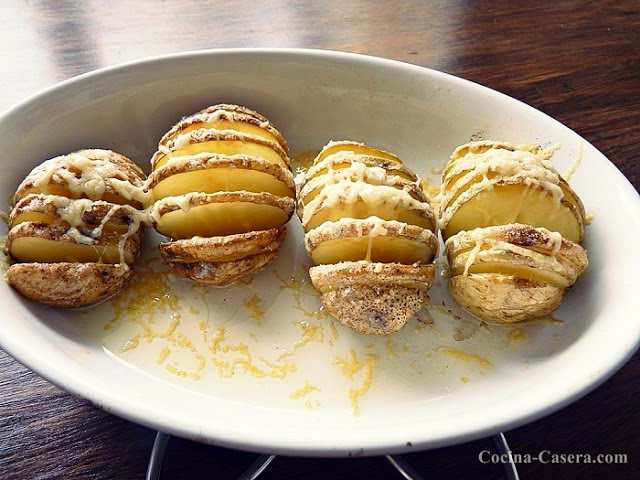 50 m
Calories: 290
Easy
4 people
These delicious Oven-Baked Potatoes with Emmental Cheese are the perfect side for any meat or fish. They aren't overly complex to make, and this simple tapas recipe gets a delightful twist from the baked cheese.
As you can see, for this recipe, I've chosen Emmental cheese. It's known for its large holes and is made from cow's milk, bearing a close resemblance to Gruyère cheese. Apart from using this cheese, you can also opt for Stuffed Potatoes as an alternative, which is truly scrumptious.
Moreover, if you cut the potatoes in the way shown in the picture, you can transform something seemingly simple into an elegant presentation. This already sets the stage for enjoying the dish with all five senses. You'll find a quick tip on how to achieve this cut at the end of the recipe description.
Ingredients for Oven-Baked Potatoes with Emmental Cheese for 4 people
Potatoes – 4 pieces
Grated Emmental Cheese – to taste
Oil – a drizzle
Salt – to taste
How to make the recipe Oven-Baked Potatoes with Emmental Cheese
Preheat the oven to 464ºF. Thoroughly wash the potatoes and dry them using kitchen paper. Cut the potatoes in such a way that the cuts don't go all the way through.
Place the potatoes in an oven-safe dish with the cut side facing up, season with salt and drizzle some olive oil over them. Bake in the oven for 40 minutes. After about 20 minutes, drizzle a little more olive oil.
Once baked, sprinkle grated cheese over the top and put them back in the oven until the cheese melts and turns slightly golden, which should take around five minutes.
Notes and Tips
To ensure you don't cut the potatoes all the way through, use some chopsticks (like the ones you get in Chinese restaurants) as a guide on either side of the potato. This will prevent the knife from cutting too deep.
If you prefer, you can replace olive oil with some melted butter.
Some people don't enjoy the potato skin. If this is the case, peel the potatoes before cutting and baking them. They still taste amazing this way.
Latest posts by Cocina Casera English
(see all)
What to eat today? Search by ingredient or recipes