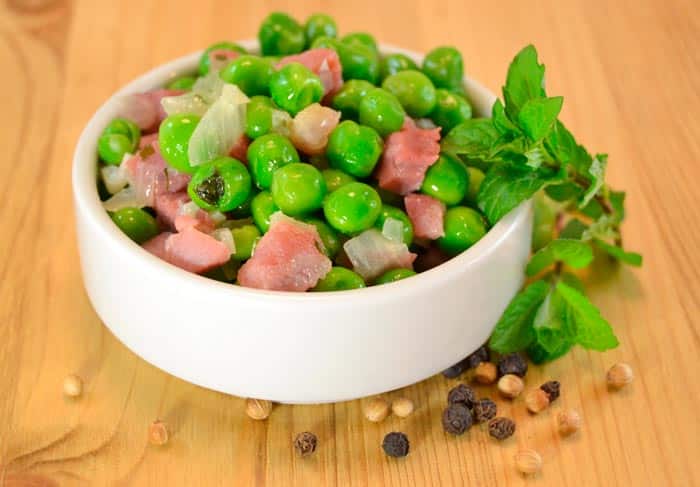 10 m
Calories: 240
Easy
1 person
Peas with ham are the typical quick recipe that can get you out of a bind when you have nothing prepared and are in a bit of a hurry, or simply want a quick meal. Also, it's a recipe to make any day given the healthy properties of peas, olive oil, ham, and of course, garlic.
You can alternate this main ingredient with cooked green beans, so you won't get tired of the dish, you have two in one, so to speak, since the preparation is practically the same.
Next, I leave you with the ingredients and the step-by-step process of our easy but no less tasty recipe, I hope you like it as much as we do.
Ingredients for Peas with Ham for 1 person
250 grams of cooked peas
90 grams of serrano ham in cubes
1 large clove of garlic
A splash of extra virgin olive oil
How to make the recipe Peas with Ham
First of all, drain the peas, which usually come in cans in their own juice, and the less of this juice there is when you cook them, the better, because you will avoid overcooking them. So, the first thing to do is to empty the contents of the pea can into a colander and let it drain while preparing the next steps.
Now, cut the garlic, the bigger the better. I personally like to slice it into not too thin strips, if you make them too thin you run the risk of burning them and giving the dish a bitter taste. Leave them a bit chunky and this way you will get slightly toasted but tender pieces of garlic.
Add a splash of olive oil to the pan and heat over medium heat, once it reaches temperature add the garlic slices, stir a bit to prevent them from burning and immediately add the chopped serrano ham. Stir to prevent the garlic from burning and the ham from lightly toasting.
After about 2 minutes, add the peas that you had resting and that will have finished releasing the remaining liquid.
Shake the pan with a firm forward and backward movement so that the pieces of ham move to the top and the peas to the bottom and mix. If you are not very skilled with this movement, stir frequently.
After about 3 - 4 minutes, remove the peas to a plate ready to serve.
Notes and Tips
I recommend serving this dish with a good homemade bread, and above all, enjoy them while they are warm.
There's no need to add salt to the dish as the ham is salty enough to flavor the rest.
Latest posts by Cocina Casera English
(see all)
What to eat today? Search by ingredient or recipes