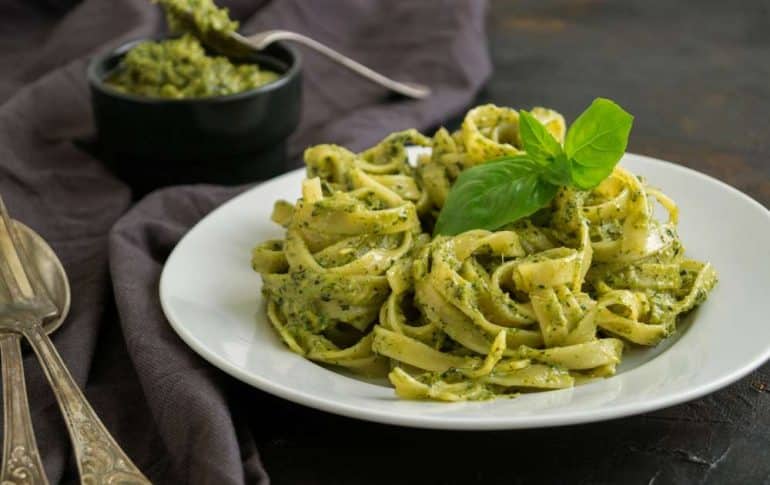 40 m
Calories: 270
Easy
4 people
This Peruvian Green Noodles recipe will amaze you! This dish is a delicious option for those seeking a meal full of authentic flavor and tradition. Rooted in Peruvian culture, Green Noodles have been a fundamental part of Peruvian cuisine for centuries, and today, they remain one of the most popular and beloved dishes throughout the country.
But what makes Peruvian Green Noodles so special? The key is in their unique and delicious green sauce. Also, the fresh noodles (whether egg or flour) are mixed with the sauce until they are completely covered, creating a smooth and creamy texture.
There are some important things to consider when preparing Peruvian Green Noodles, so don't forget to read to the end of the recipe as we leave you many interesting tips.
So, are you ready to try this delicious recipe for Peruvian Green Noodles? Follow our steps and discover why this dish is so loved in Peru and around the world. Enjoy your meal!
Ingredients for Peruvian Green Noodles for 4 people
350 g of noodles
200 ml of evaporated milk
160 g of fresh cheese
140 g of spinach. More or less 1 cup.
1 large tablespoon of butter
75 g of fresh basil. More or less 1/2 cup.
1 medium onion.
2 cloves of garlic
5 or 6 pecan nuts
Oil and salt
How to make the recipe Peruvian Green Noodles
In a non-stick pan, melt the butter over low heat and add the spinach with a little salt. Cook for 3 minutes and set it aside.
Finely chop the onion and garlic cloves, and cook them in the same pan with a little oil and salt over medium heat until they are tender and golden.
Meanwhile, cook the noodles in salted water for 8 minutes or during the time indicated on the package. Then, drain them and reserve some of the cooking water.
For the green sauce, blend the spinach, basil, fresh cheese, evaporated milk, nuts, and a little pasta cooking water. Add the water little by little and add as much water as you consider depending on whether you want a more or less thick sauce.
Add the green sauce to the pan with the onion and garlic, and cook over low heat for 5 minutes.
Mix the noodles with the green sauce and add cooking water if you see it is necessary. Also, add a little salt to taste.
Serve the noodles with the green sauce and if you want you can accompany them with a steak of meat as it is a very traditional accompaniment in Peruvian cuisine.
Notes and Tips
Cook the noodles until al dente: Make sure not to overcook the noodles, as this can make them become soft and sticky. Cook until they are al dente, that is, they still have a bit of texture and are not soft.
If you don't have pecan nuts, you can replace them with another type of nuts or seeds that you have at home, like almonds, hazelnuts, or pistachios.
If you want to make the recipe a little lighter, you can use skimmed milk instead of evaporated milk, and use a low-fat fresh cheese.
Mix the sauce well with the noodles: Make sure to mix the sauce well with the noodles so that every bite is full of flavor. Cook for a few extra minutes so that the sauce adheres well to the noodles.
Customize your dish: If you wish, you can customize your dish by adding additional ingredients such as chicken or shrimp, or sprinkling grated cheese on top.
Refrigerate the sauce: If you prepare the sauce in advance, you can refrigerate it for up to a day. This will allow you to cook Peruvian Green Noodles even faster and easier.
Latest posts by Cocina Casera English
(see all)
What to eat today? Search by ingredient or recipes