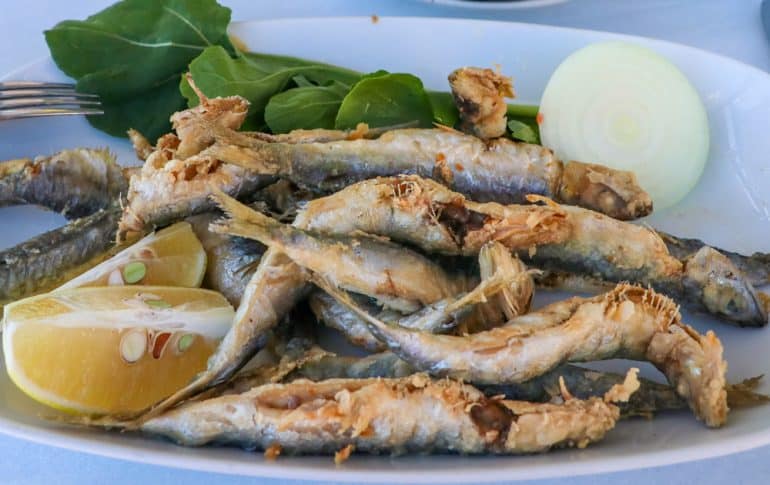 10 m
Calories: 206
Medium
2 people
If you love fried fish and want to prepare a delicious Andalusian-style fish fry at home, our "Pescaíto Frito" recipe is a must-try! This dish is a specialty from the region of Andalusia, in southern Spain, and involves fresh, crispy fish coated in a thin layer of flour and fried in oil until golden and crunchy.
This dish has an interesting history: it's said that Pescaíto Frito was a popular meal among Andalusian fishermen, who prepared it to bring aboard their ships as a way to make use of small fish that weren't suitable for sale. Over time, Pescaíto Frito became a signature dish of the region and today is one of the most popular choices in Andalusian tapas restaurants.
If you want to prepare Pescaíto Frito at home, there are a few things to keep in mind to make it perfect. That's why we're leaving you some tips at the end of this post. Don't miss them!
And now, let's get to the recipe:
To prepare Pescaíto Frito you'll need the following ingredients:
Ingredients for Pescaíto Frito for 2 people
250 grams of wheat flour
1 egg
300 milliliters of beer
1 kilogram of clean, boneless fish (you can use any type of small fish, like sardines, anchovies, etc.)
Olive oil for frying
Salt
Pepper to taste
How to make the recipe Pescaíto Frito
In a large bowl, mix the flour with the egg and beer until you get a homogeneous dough. Let the dough rest for 15 minutes to thicken a little.
Meanwhile, clean and cut the fish into small pieces if you've chosen medium-sized fish. If you've chosen smaller fish like anchovies you can leave them whole. Dry it well with absorbent paper to eliminate excess moisture.
Heat the olive oil in a pan or fryer to about 356 degrees Farenheit.
Dip each piece of fish in the flour dough and fry it in the hot oil for 3-4 minutes, or until it's golden and crispy.
Drain the fried fish on absorbent paper to remove excess oil. Season with salt and pepper to taste.
Serve the fried fish hot, it can be accompanied by a green salad and a garlic sauce, for example. Now we leave you with some tips to make it perfect:
Notes and Tips
Here are some tips to prepare the perfect Pescaíto Frito:
Use fresh and clean fish: It's important to use fresh fish and clean it well.
Prepare the flour dough correctly: Mix the flour with the egg and beer until you get a homogeneous dough and let it rest for 15 minutes to thicken a bit.
Dry it well with absorbent paper: To make the fish crispy, it's important to remove excess moisture before passing it through the flour dough.
Heat the oil correctly: The oil must be hot (at 356 degrees Farenheit) so that the fish browns and becomes crispy on the outside (Just be careful it doesn't burn).
Don't overload the pan: To prevent the fish from browning too quickly and remaining raw on the inside, don't overload the pan with too many pieces at once
Drain the fried fish on absorbent paper: To remove excess oil, drain the fried fish on absorbent paper before serving.
By following these tips, you can prepare Pescaíto Frito to perfection and enjoy a delicious Andalusian fry at home. Enjoy your meal, Foodies!
Latest posts by Cocina Casera English
(see all)
What to eat today? Search by ingredient or recipes