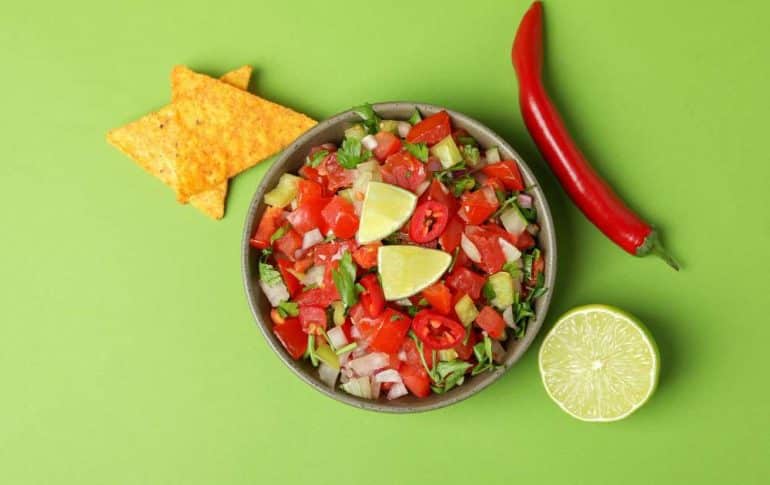 10 m
Calories: 31
Easy
2 people
Let me tell you a bit about the delicious Pico de Gallo, a fresh and delicious sauce that is very popular in Mexican cuisine.
The history of Pico de Gallo dates back to the pre-Hispanic era in Mexico, where a similar sauce called 'xnipec' was prepared. With the arrival of the Spaniards, the recipe was modified and evolved into what we know today as Pico de Gallo.
This sauce is very versatile and can be used as an accompaniment to a variety of dishes, such as tacos, nachos, fajitas, quesadillas and more. Additionally, it is very easy to prepare and can be customized to each person's taste.
When preparing Pico de Gallo, it's important to consider the freshness of the ingredients as well as other tips we leave you at the end of this post to make it perfect.
In summary, Pico de Gallo is a delicious Mexican sauce that you can't miss trying. Encourage yourself to prepare it at home and enjoy its fresh and spicy flavor!
Ingredients for Pico de Gallo for 2 people
2 medium tomatoes
1/2 purple onion
1/2 green pepper
1/2 bunch fresh cilantro
1/2 lemon
Salt and pepper to taste
How to make the recipe Pico de Gallo
Wash the tomatoes, the purple onion and the green pepper. We dry them well and chop them into small cubes. It's important that the cubes are the same size for the sauce to be uniform.
We cut the fresh cilantro into small pieces and add it to the chopped vegetables. We mix all the ingredients well.
We squeeze half a lemon and pour it over the mix. We stir well.
We add salt and pepper to taste. It's important to taste the sauce to adjust the amount of salt and pepper according to our taste.
We let the sauce settle in the refrigerator for about 10 minutes before serving so that the flavors mix and the sauce is fresh.
Notes and Tips
Cut the ingredients the same size: As I mentioned earlier, it's important to cut the ingredients into small cubes and of the same size for the sauce to be uniform and have a nice texture on the palate.
Use fresh lemon: Fresh lemon juice is essential to give the sauce a citrusy and refreshing flavor. Make sure to squeeze the lemon just before adding it to the mix.
Customize the recipe: You can add other ingredients such as serrano chili, garlic or even mango to give a different touch to the sauce.
And the last Tip: If you want your Pico de Gallo to have an even more intense flavor, you can toast the ingredients before mixing them. Simply place the tomatoes, onion and pepper in a hot pan and let them lightly brown without overdoing it before chopping and mixing them with the other ingredients. This will give your sauce a smoky and delicious touch!
Latest posts by Cocina Casera English
(see all)
What to eat today? Search by ingredient or recipes