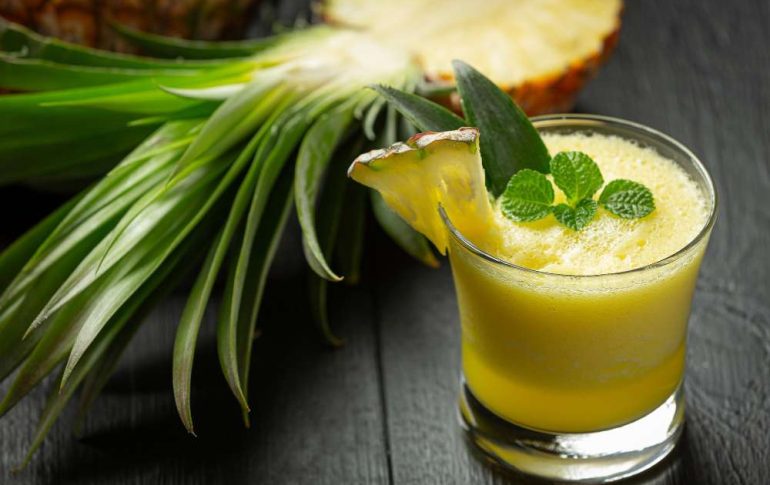 10 m
Calories: 174
Easy
2 people
The Piña Colada is a tropical drink that has captivated palates around the world for decades. Its origin is said to date back to the 1950s in Puerto Rico, where it was created as a refreshing beverage for tourists. Since then, it has become a symbol of Caribbean culture and has been the perfect companion for those looking to escape stress and immerse themselves in an exotic atmosphere.
When preparing a Piña Colada, it's important to keep in mind some key details to achieve a perfect flavor. You can read them at the end of this post.
The Piña Colada is a refreshing and exotic drink that will transport you to a tropical paradise with each sip. Prepare it following our detailed recipe and enjoy a unique experience for your senses!
Ingredients for Piña Colada for 2 people
2 cups of fresh pineapple chunks
1 cup of coconut milk
1/2 cup of fresh pineapple juice
1/4 cup of white rum
4 ice cubes
1 teaspoon of sugar (optional)
How to make the recipe Piña Colada
In a blender, add the fresh pineapple chunks, fresh pineapple juice, coconut milk, white rum, and ice cubes.
If desired, add a teaspoon of sugar for added sweetness.
Process all the ingredients until you get a smooth, lump-free mixture.
Check if the consistency is right; if necessary, add more ice cubes or a bit more coconut milk for a thicker consistency.
Pour the mixture into two large glasses and decorate with a fresh pineapple slice or fresh mint leaf if desired.
Notes and Tips
Use fresh ingredients: To achieve a fresh, authentic taste, it's important to use fresh ingredients such as fresh pineapples, fresh pineapple juice, and freshly opened coconut milk.
Appropriate proportions: The proportion of ingredients is key to achieving the perfect consistency of the Piña Colada. It's important to follow the recommended quantities in the recipe, adjusting them to personal taste if necessary.
Blend the ingredients well: To achieve a smooth, lump-free blend, it's important to process the ingredients in the blender until they reach a uniform consistency.
Decorate with style: To give the Piña Colada a final touch, it can be decorated with a fresh pineapple slice or a fresh mint leaf. This not only adds an attractive visual touch but also adds a fresh and refreshing aroma.
Latest posts by Cocina Casera English
(see all)
What to eat today? Search by ingredient or recipes